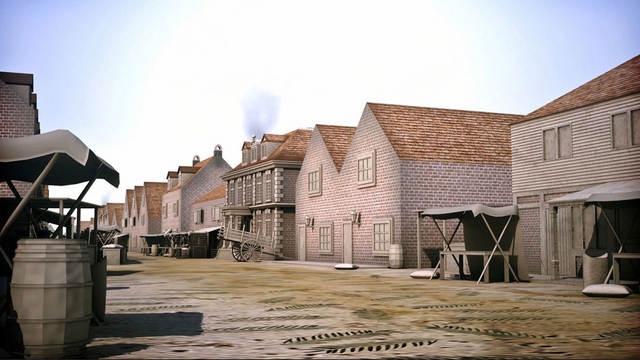 port royal
Jamaica has been characterized by a great historical, archeological cultural diversity as presented by the City of Port Royal which is full of pieces, which tell the daily life in the early days of the English colonization.
Jamaica se ha caracterizado por poseer una gran diversidad cultural historica, Arqueologica como la presenta la Ciudad de Port Royal la cual esta llena de piezas, que cuentan la vida cotidiana en los primeros días de la colonización inglesa.
Port Royal was founded in 1518 by the Spanish. In front of Kingston Bay was a sandy island where the Spaniards used to hunt the galleons. (Sailing vessels used since the early 16th century. They were powerful and very slow ships of destruction that could be equally used for trade or war. They became the main trading ship of European nations,
Port Royal fue fundada en 1518 por los españoles. Frente a la bahía de Kingston se encontraba una isla arenosa donde los españoles solían carenar los galeones. (embarcaciónes de vela utilizada desde principios del siglo XVI. eran barcos de destrucción poderosos y muy lentos que podían ser igualmente usados para el comercio o la guerra. se convirtieron en el barco de comercio principal de las naciones europeas.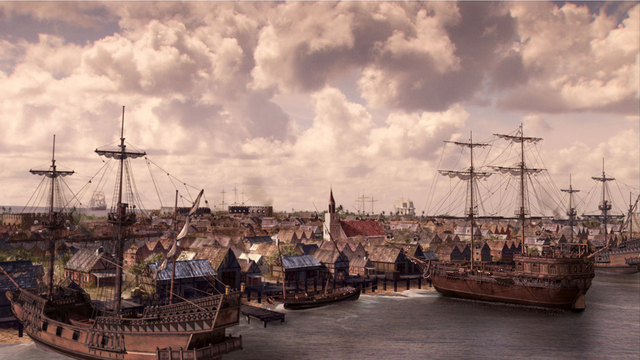 ciudad pirata
Port Royal is one of the oldest and most historic regions of the country described in the seventeenth century as the "most wicked city in the west," because it had a den of pirates, prostitutes and slavers like the world.
Port Royal es una de las regiones más antiguas e históricas del país descrita en el siglo XVII como la "ciudad más malvada del oeste", debido a que esta poseía una guarida de piratas, prostitutas y esclavistas como nunca antes había conocido el mundo.
Its inhabitants free of expenses threw their money in gambling, whores and drink, it was a city of evil and impiety.
Sus habitantes libres de gastos tiraron su dinero en juegos de azar, putas y bebida, era una ciudad de maldad e impiedad.
"Wine and women drain their wealth to such an extent that some of them became reduced to begging.
"El vino y las mujeres drenan su riqueza en un grado tal que algunos de ellos llegaron a ser reducidos a la mendicidad.
Its streets saw everything, especially the waste of money that was made for the strangest pretexts, such as buying a barrel of wine and placing it on the street to force passers-by to drink it.
Sus calles vieron de todo, en especial el derroche de dinero que se hacía por los pretextos más extraños, como comprar un barril de vino y colocarlo en la calle para obligar a los transeúntes a beberlo.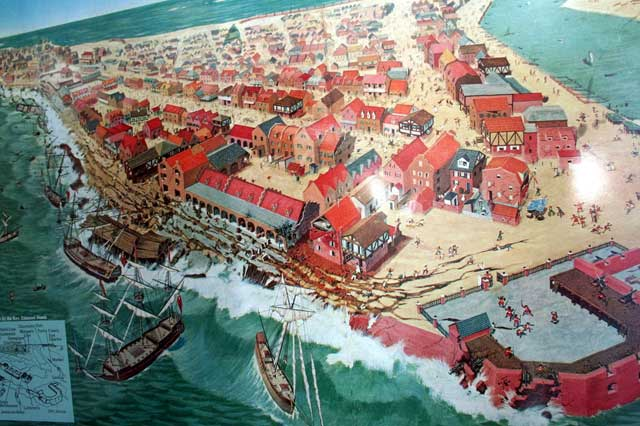 port roya
The streets of Port Royal were crammed with "undesirable people": prostitutes in search of customers, pirates and buccaneers planning their next assaults, paid mercenaries and all kinds of outlaws in port life, forming a large population that was supported by the market of The vices and piracy, showing a wealth that even the most cosmopolitan cities of that time could not boast.
Las calles de Port Royal se abarrotaban de "gente indeseable": prostitutas en busca de clientes, piratas y bucaneros planificando sus próximos asaltos, mercenarios a sueldo y toda clase de forajidos en la vida de puerto, formando una nutrida población que se sostenía del mercado de Los vicios y la piratería, ostentando una riqueza que ni siquiera las ciudades más cosmopolitas de entonces podrían presumir.
The glory days of Port Royal did not last long. At the height of its resplendent wealth it ended on June 7, 1692, when a strong earthquake shook Jamaica. The sea swallowed the city killing 2,000 people and injuring another 3,000. Local clergy attributed the destruction of Port Royal as a punishment from God over people for their sinful ways.
Los días de gloria de Port Royal no duraron mucho. En el apogeo de su resplandeciente riqueza se terminó el 7 de junio de 1692, cuando un fuerte terremoto sacudió Jamaica. El mar se tragó la ciudad matando a 2.000 personas e hiriendo a otras 3.000. Los clérigos locales atribuyeron la destrucción de Port Royal como un castigo de Dios sobre las personas por sus caminos pecaminosos.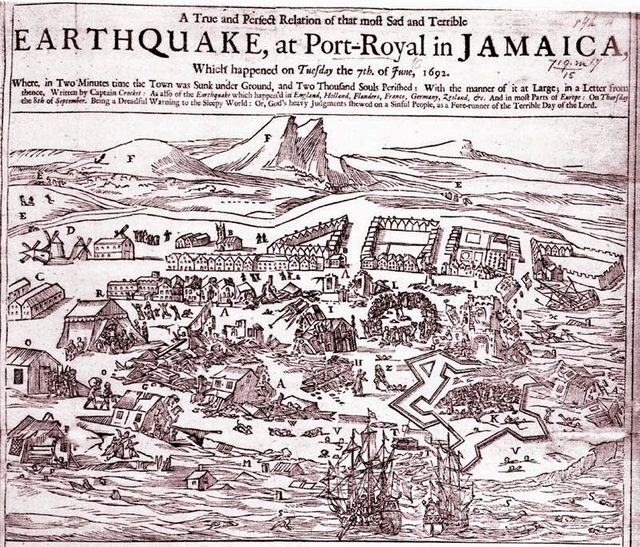 portroya
Since then, another earthquake in 1907, several hurricanes, fires and various diseases that decimate the population have affected the city.
Desde entonces, otro terremoto en 1907, varios huracanes, incendios y diversas enfermedades que diezman la población han afectado a la ciudad.
This city could never recover to its ancient era of abundance and success. Port Royal lived its days as a British naval station and today remains a small fishing village. The part of the city that lies at the bottom of the shallow sea is considered the most important underwater archaeological mine in the Western Hemisphere, producing many objects from the 16th and 17th centuries Cast iron pans and pots were still in the home with charred fire wood concreted on their surfaces. Piles of pewter plates were found as they fell from their storage space under the stairs in what was surmised to be the area of ​​a building portion. Remains of children were found among the broken walls of his house. In addition, they discovered what were the remains of barrels that contained the garbage of the day, including clippings of the beard and hair of a man in an area of ​​the courtyard. Many ceramics were found where they fell intact or broken.
esta ciudad nunca pudo recuperarse a su antigua epoca de abundancia y exito. Port Royal vivió sus días como estación naval británica y hoy permanece como un pequeño pueblo pesquero. la parte de la ciudad que yace en el fondo del mar de poca profundidad es considerado la mina arqueológica submarina más importante en el hemisferio occidental, produciendo muchos objetos del siglo XVI y XVII entre los que se encuentran : Sartenes de hierro fundido y ollas estaban todavía en el hogar con madera carbonizada del fuego hormigonada en sus superficies. Se encontraron pilas de platos de peltre, ya que cayeron de su espacio de almacenamiento debajo de las escaleras en lo que se conjeturó que era el área de la porción de un edificio. Se encontraron restos de niños entre las paredes rotas de su casa. Además, descubrieron lo que eran los restos de barriles que contenían la basura del día, incluidos los recortes de la barba y el pelo de un hombre en una zona del patio. Muchas cerámicas fueron encontradas donde cayeron intactas o rotas.
To visit the ruins of Port Rotal you have to ask for special permits from the Jamaican government. If you do not want to complicate, you can also observe some vestiges recovered by researchers who are in the Museum of History and Ethnography of the Institute of Jamaica in Kingston
Para visitar las ruinas de Port Rotal hay que pedir unos permisos especiales del gobierno jamaiquino. Si no deseas complicarte también puedes observar algunos vestigios recuperados por investigadores que se encuentran en el Museos de Historia y de Etnografía del Instituto de Jamaica en Kingston.

---
Posted via ReggaeSteem | Reggae Culture Rewarded