Here is a film from the American director, Trey Edward Schults, who I believe is one of those filmmakers that I'm beginning to watch his movies very closely. Kicking his career in the early 2010s, when he was just starting to direct, Trey Edward Shults went to work on two Terrence Malick films, "The Tree Of Life" and "Voyage Of Time", and since then this experience has completely change his conception of cinema.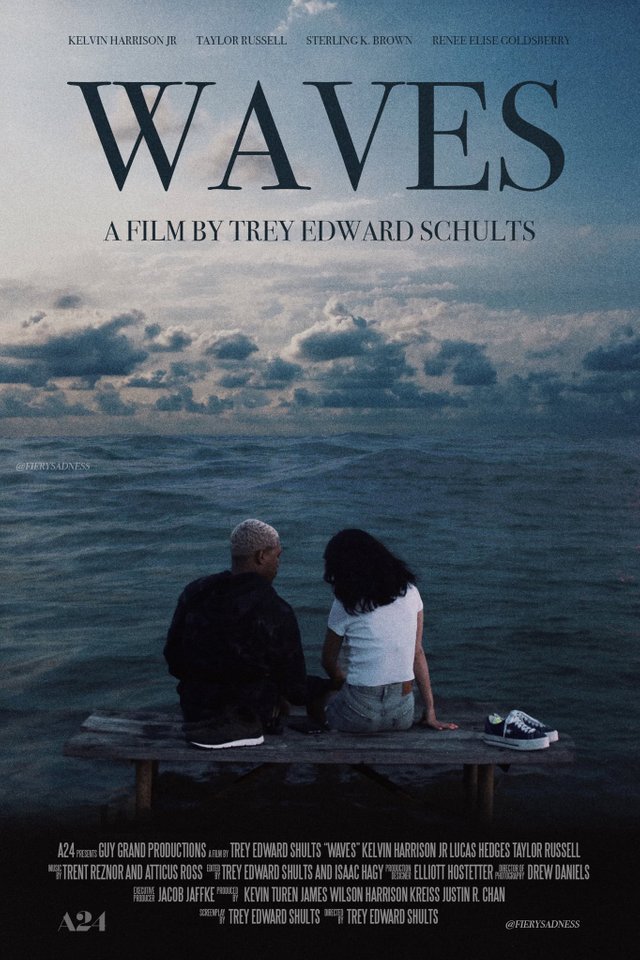 Poster
Movie: Waves (2019)
Genre: Drama / Sports / Romance
Director: Trey Edward Schults
Cast: Kelvin Harrison Jr., Lucas Hedges, Taylor Russell, Alexa Demie, Renée Elise Goldsberry, and Sterling K. Brown
Synopsis: Traces the journey of a suburban family - led by a well-intentioned but domineering father - as they navigate love, forgiveness, and coming together in the aftermath of a loss. (IMDb)
Review: For his third film( I believe), the director, Trey Edward Shults, deliverṣ, a powerful moment of cinema, a masterful work which ally with perfection, visual beauty and powerful frame, which is a source of reflection and especially of emotion.
The movie "Waves", as its title suggests, is a wave of pure emotion, it is a film that is very intelligent both in its staging and in its script.
Divided into two main parts, it is true, that the little-left beginning thought of an exercise in demonstrating talent on the part of its director, which multiplies the ideas of staging, editing, and rhythm, but very quickly, I would say this energy grabs me and i find myself caught up in this story and its characters.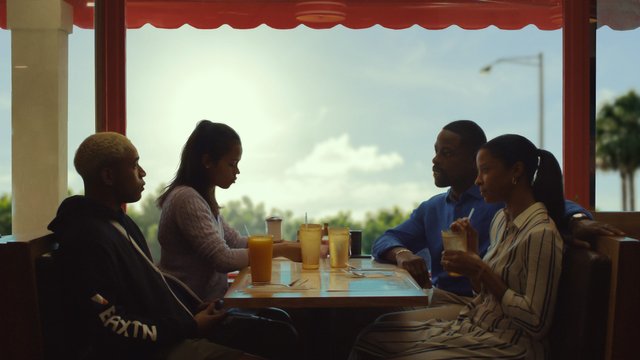 "Waves" is a very simple plot, a story that can happen to everyone, and Trey Edward Shults knows exactly how to talk about it. Family chronicle, adolescent chronicle, chronicle of a drama, of a re-enactment, the script written by its director is superb. Divided in two parts as I said, through this story and especially through its characters, "Waves", is a film which speaks in its first part of the family, of the eternal image, of this desire to please has the latter and that feeling of being crushed at the same time.
Waves is also a film masterfully interpreted by all the actors who, in addition to finding superb characters, give their all for the film. Although, I heard the movie isn't widely distributed, which I think it's not so good, as it will likely go unnoticed and it's a shame, because it is one of the most beautiful film and especially one of the biggest film of the beginning of the year. Powerful, overwhelming, authentic, crazy, edgy, in love, tender, poetic, Trey Edward Shults takes us into a maddening piece of cinema with an explosion of emotions.
---
Movie Url: https://www.themoviedb.org/movie/533444-waves?language=en-US
Critic Ratings: AAA