No longer has anyone hidden that international attention drawn to the brilliant Aamir Khan after he formed a difficult number in many of his recent films, including an example but not limited to his famous movie PK.
This time the Bollywood hero returns to us again with a completely different and totally renewed movie with a distinctive and relatively long story with a sporty and dramatic nature.
In it he represents 3 different age stages, the 19-year-old young man, the average man in his thirties, and finally the old fiftieth man, after all stages of life and conflict have been combined and give their own flavor to the spectrum of his dream, all this in the movie "Dangal", which extends for nearly two hours and forty minutes.
the story of the movie
The story of the movie revolves around "Mahavir Singa Bhuajat" Indian wrestling champion dreams of bringing the gold medal to his country but a lot of dreams with little support ended up on one of the desperate government job seats, but about the dream of the gold medal he never left his mind and encircled his imagination for himself His expected successor and heir (son) will soon realize this glowing dream sooner or later.
But dreams may go away and may take a completely different direction other than what we hope to form stories and endings in a form that we did not expect and this happened with the hero of our movie Dangal where setbacks (according to his sense at least then) produce four girls in a row, burying his dream with the cry of the fourth child's birth.
The dull days of our hero are elapsed while he is in a state similar to that of the dead person until hope flares up again when he notices the physical strength of his two daughters after a quarrel with two boys from the village, only here begins the journey of chasing the dream again.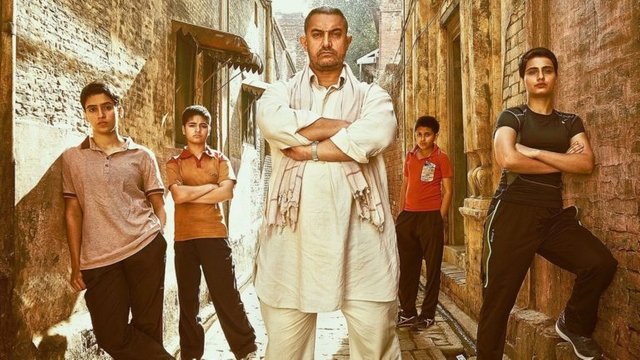 Image Source