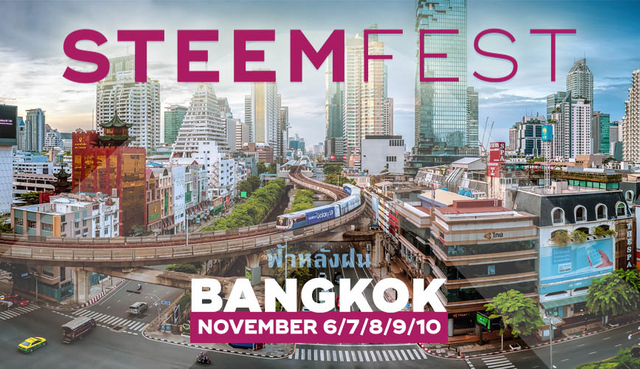 The current week's #roadtosteemfest topic, which was announced by @anomadsoul and @blocktrades, deals with the question whether my trip to Bangkok is for business or leisure. Of course I would like to answer this question :-)
---
As I wrote last year, the SteemFest is a good opportunity for me to connect with people who share the same interests. The Steem universe as a whole offers a lot of opportunities to get involved. I, as someone who likes to get involved in projects, offers my help and likes to educate myself during my work, can make some interesting contacts at the SteemFest, as I did last year. Last year, at the SteemFest in Krakow (Poland), I met some very nice and interesting people. I am still in contact with these people today. Business yes, what is there to say? I am simply looking forward to meeting new people in Bangkok and to talking about projects. Projects that are perhaps still in development and may also need help. So my trip to Bangkok will also, if a small part, have to do with business.
But my trip to Bangkok will be mainly and for the most part a pleasure. I see the trip as my holiday, which I haven't had for some time. To see the newly won friends from last year again, that would make me very happy. But I think that not everyone who was in Krakow last year will travel to Bangkok again this year. But from some people I already got a promise that we will see each other there. Another pleasure will be to participate in the bowling event again :) I have to defend the title.
Since there will be some free time at the SteemFest besides the conferences, I think I will do a lot of sightseeing. Finally I take my camera / Ronin with me.

Das aktuelle Wochenthema zum #roadtosteemfest, welches von @anomadsoul und @blocktrades ausgerufen wurde, beschäftigt sich mit der Frage, ob meine Reise nach Bangkok eher aus geschäftlichen Gründen ist oder eher für die Freizeit. Diese Frage würde ich natürlich gerne beantworten :-)
---
Wie ich im letzten Jahr schon geschrieben habe, ist das SteemFest für mich einge gute Gelegenheit, mich mit Menschen zu verbinden, die die selben Interessen verfolgen. Das Steem-Universum als ganzes bietet einiges an Möglichkeiten, sich einzubringen. Ich, als jemand, der sich gerne in Projekte einbringt, meine Hilfe anbietet und sich gerne während der Arbeit weiterbildet, kann beim SteemFest, wie auch im letzten Jahr einige interessante Kontakte knüpfen. Im letzen Jahr, auf dem Steem Fest in Krakow (Polen) habe einige sehr nette und interessante Menschen getroffen. Mit diesen Leuten bin ich heute noch in Kontakt. Geschäftliches ja, was gibt es da zu sagen? Ich freue mich einfach, neue Menschen in Bangkok kennenzulernen und auch über Projekte zu sprechen. Projekte, die vielleicht noch in der Entwicklung sind und vielleicht auch Hilfe benötigen. Also wird mein Trip nach Bangkok auch, wenn einen kleinen Teil, mit Geschäften zutun haben.
Meine Reise nach Bangkok wird aber vorwiegend und zum allergrößten Teil zum Vergnügen sein. Ich sehe die Reise als meinen Urlaub, den ich schon länger nicht mehr hatte. Die neugewonnenen Freunde aus dem letzen Jahr wiederzusehen, das würde mich Riesig freuen. Ich denke aber mal, das nicht jeder, der auch im letzen Jahr in Krakow war, auch dieses Jahr nach Bangkok reisen wird. Von ein paar Leuten habe ich aber schon eine Zusage bekommen, das wir uns dort sehen werden. Ein weiteres Vergnügen wird es sein, wieder am Bowling-Event teilzunehmen :) Ich muss ja den Titel verteidigen.
Da es bei dem SteemFest neben der Konferenzen auch einige Freie Zeit gibt, denke ich, das ich viel Sightseeing betreiben werde. Schließlich nehme ich auch meine Kamera / Ronin mit.
---
This and the next articles on my trip to Malaysia / Bangkok will help me to cover the cost of my trip.
Dieser und die nächsten Beiträge zum Thema meiner Reise nach Malaysia / Bangkok helfen mir, die Kosten für die Reise zu decken.
---

Splinterlands.io Trading Card Game
Nextcolony.io Space-Browsergame

Deutschsprachige Steemians im Discord

@cleanplanet Project Eco-Citizen on Steem