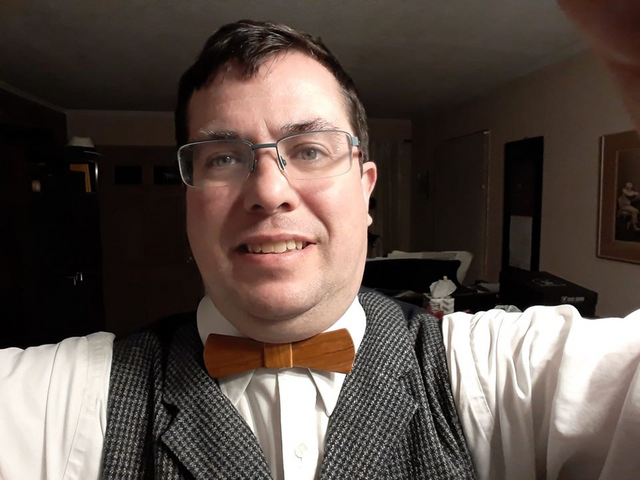 New birthday present! I had never seen one before, but my parents found a bowtie made out of spruce.
It was a full day again with at least a little practice time spent. It began with teaching Music Appreciation classes (the piano and the piano sonata) and Music History (Baroque Organ music--preludes and fugues). I taught two separate private lessons, one piano and one organ and did paperwork the rest of the day until choir practice from 4 until 6. I am a bit concerned as the choir doesn't seem to know their music very well and the concert is Saturday. But, I'm not the conductor, just the pianist. So I kept my mouth shut. Came home to find my birthday present and a couple other packages came in the mail (a couple of books and a DVD I had ordered as well as a Christmas present my wife had ordered for me). Then off to Chanters rehearsal. I needed to stop by the school and the store on the way home to pick up some niceties for a Christmas party tomorrow. After some complaining about my day to my wife (she deals with it so well) I sat down to do some more work. I will make a piano rendition of an a capella work that need to get done tonight and then try to get to bed before midnight.
On the piano, I spent the day trying to speed up two choruses from Messiah. For Unto Us is giving me the hardest problem. The reduction requires lots of double third and sixth passages which I have reduced down further for ease of playing. I can for the most part play it at around 72 to the quarter note comfortably. The conductor thinks it needs to be around 98 to the quarter note. A little nervous about getting it that fast and being able to control it. I also worked on some anthems for a high school choir and part of Chopin's Op. 10 No. 4. Worked on stopping on every beat on the first two pages for accuracy. Then went to every half bar. Slowly but surely moving forward with this piece.
On the organ, I was only able to get about 10 minutes of practice in and specifically on a piece for this weekends concert--Mack Wilberg's Joy to the World. I am working out of an orchestral reduction to a piano score and fleshing it out for the organ. I think it is working well. Would like to get it with the choir, however. Maybe tomorrow.