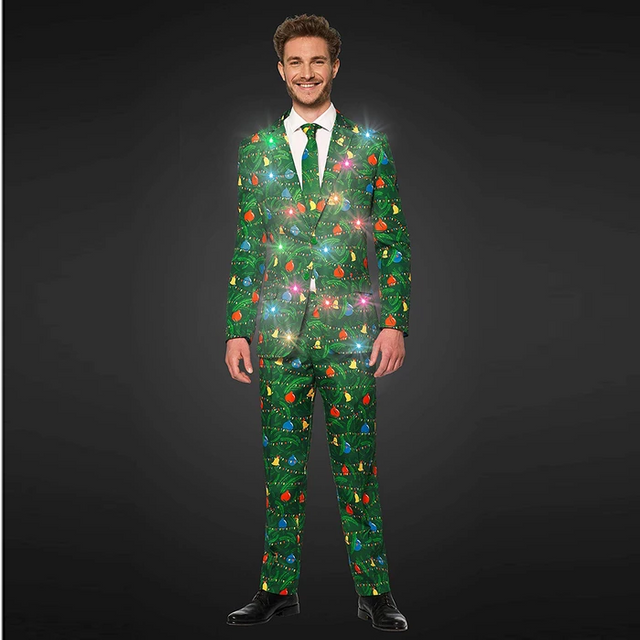 !
Although it started off badly, today was an amazing day. This morning, our youngest needed a grooming. My wife dropped her off at 8 am, and went out for breakfast leaving me on my own. I practiced piano for a bit, and (as we had a Christmas party at work) prepared some barbecued hot dogs and a bowl of nuts. Simple, yet effective. At 9:30 am, I donned my Christmas suit (see above for an example as I didn't get a picture today) and dashed off to retrieve the little one from the groomers. Unfortunately, I forgot my car key in the house. Right beside my house keys--and I was locked out of the house. Some frantic phone calls later found someone with a key available to let me in, but this was after 10 am. I dropped off the food for the party, retrieved the dog, brought her home, fed the dogs, and went off to the party. I arrived just in time. After some fellowship and food, I worked on my classes for tomorrow (last day of the school year!), made a facebook page about an upcoming recital I will be doing, and practiced piano until 4 pm. Choir rehearsal until 6. Got some organ practice in before attending an installation practice at one of the Masonic lodge's I attend and this brought me home. Again, bad beginning but a very productive day.
On the organ, I was able to spend some time on Christmas music. I am working on speeding up JS Bach's Fantasia on In Dulci Jubilo. I have the majority of it at half-note equals 85. It is just this tricky triplet section in the middle and a little spot at the end that I cannot hold the tempo at. These sections aren't fantasia sections so I don't want to play them rhythmically too free. My fingers just aren't getting over the keys with enough time for it to sound "right". I also worked on speeding up David Willcock's Postlude on Mendelssohn. I got the first brilliant part with the hymn tune up to speed (quarter note = 72). The hard part is holding the melody for an eighth note each time it's played. But I feel pretty comfortable with that part. Tomorrow, I want to work on the ending section.
On the piano, i spent quite a bit of my time working on speeding up "For Unto Us a Child is Born" from Messiah. I am basically running the harder sections at about half speed, then, if it was comfortable and I played all the notes, move the metronome up one click. I'm close to the desired speed, but not close enough (the conductor thinks the quarter note needs to be 98 and I've got it at 84 for the most part, 80 reliably). I also worked on speeding up Chopin's Op. 10 No. 4. I don't think the printed tempo marking in the Paderewski edition can be right (half-note=88) as I feel close to my top speed at quarter note=110. I know it should go faster than that, but fifty clicks on the metronome per minute faster?! So, I worked the piece stopping on every beat at half speed, then stopping on the half-note, then each measure, then each line, etc. Most of the notes and gestures are there, but speed..... I also worked on the fugue of Beethoven's Op. 101 last movement. Working on speeding this up. The exposition and recap feel pretty comfortable, but under speed. The coda is another bear to tackle.
At a rehearsal today, a mother of a local cello student approached me about a conversation we had a couple months ago. I had mentioned that in the spring I would like to do an all Beethoven recital (working on repertoire and date has been "set", but not in stone). I asked if her son, an amazing cellist, would like to play a Beethoven cello sonata on it. She of course said he would love to (her son wasn't actually there). She was going to contact his teacher to see which sonata he should learn. I said I would like to ask her son. I bumped into him a couple days later and proposed it to him. His reaction was luke-warm at best. I told him that he didn't need to and I understood that he wasn't interested. Today, the mother asked about the concert. I told her everything from above, and she brought her son over. It turns out he misunderstood me and thought I was asking about a specific sonata and that he would love to do it (not sure how much it was mother being there that influenced this decision). I told them to let me know which sonata they were thinking about (turns out it was only one movement). Got a text this evening that it was Op. 69 in A major. Long story to basically say I then sight read through that sonata. It seems doable in about two months time. We shall see. A local cello player who doesn't believe any pianist in the area can play worth a damn has been giving the son lessons on the side and has the mothers ear. I have a contingency play in place if this falls through....