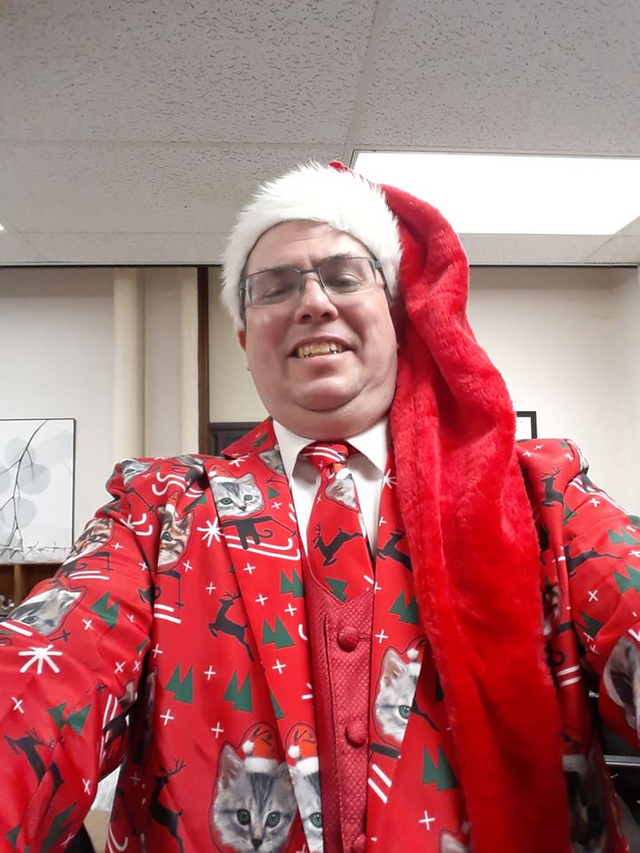 Holiday Cheer! The school I work at had it's annual Christmas Party for People with Disabilities. I try to wear goofy stuff to this, and did so today (see above). I think I even made the news.
Today was a good day. Not overly busy. It started with a trip to the chiropractors for my two week appointment. Felt much better afterwards. I went to work with the idea that I would get some grading done and was constantly interrupted by students who had questions or coworkers who wanted to chat. The Christmas party was at noon, so I got most of the grading done before it started, but had a little to do afterwards. I needed to run some errands and grab some lunch, but then was able to spend about an hour and a half practicing piano. I thought I would only have 40 minutes to practice organ, but it turned out that the choir rehearsal started 45 minutes later. So I got a little under an hour and a half practice on the organ. Choir rehearsals ran until 5:45 pm, and then we went to the local Latter Day Saints Church for a dry run of the concert on Saturday in front of a small group. Got home early tonight! Had porkloin, potatoes and peas for dinner. Fifth day of advent brought an oolong honey tea, which I finished right before coming to write this. The plan is to get some Masonic Lodge stuff done before playing video games for a little while tonight.
On the organ, I ran most of the music for my concert on December 15. Bach's In Dulci Jubilo BWV 729 feels pretty good with the exception of one or two measures about eight measures from the end. I just need to wood shed them until they are fluent. I have a week..... Marcel Dupre's Il est ne variations is a piece I am bringing back from last year. The fugue at the end is the most difficult part, in particular right at a page turn. It's not the page turn that's the problem, it is that my foot wants to go to a wrong pedal each time. Cooman's Variations on a Basque Noel is coming along nicely. It is not the most difficult piece technically to play, but it is a nice little gem. I did start work on Vierne's Finale from his first Symphony today. The first two pages are at least begun and I am playing them a little over half tempo. The goal tomorrow is to get back to it and get a couple more pages under my fingers. In finished off my practice with the arrangement of Mack Wilberg's Joy to the World that I am playing on Saturday.
On the piano, I spent most of my time speeding up "For Unto Us" from Messiah. I almost can play it at the tempo the conductor wants. One more day, and it should be there. I also worked on speeding up Chopin's Op. 10 No. 4. I have most of the piece in my fingers at qn=88, and was trying to get the third and fourth pages up to qn=100.