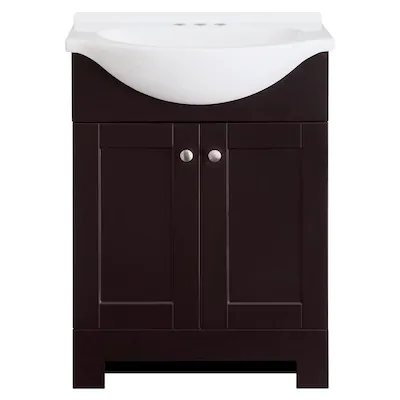 Picture from Lowes website.
What a day! It began with church service. My wife and I actually got out of the house early, so I spent about 40 minutes practicing non-service related music before church began. After church, we went out for pizza and then to a home improvement store. We purchased a new electrical outlet for our dryer (it completely blew out last Thursday)and a vanity for the downstairs bathroom (I had purchased one for the upstairs). We came home and I took apart the electrical outlet only to find one of the wires had melted. So, we will need an electrician. On to the upstairs vanity. I had taken the sink off yesterday and realized we needed some extra equipment to finish installing it. Today was the day! Mostly. I got the vanity installed, sink placed on top of it, water rehooked up and not leaking, and .... the drainage pipe we had on hand was too short. Back to home improvement store tomorrow. But, the vanity looks great! I then went to a Masonic installation. I was installed as Senior Deacon at one of the lodges I am a member of. Returned home and quickly made dinner (turkish wet burgers and brussel sprouts with caramelized onions) for some friends. While cooking, I received an email request to perform at a dedication ceremony for a new Steinway B that was purchased at a local church. Turns out a friend of mine was supposed to do it, but broke his leg this weekend..... So, after our friends left, I quickly checked how hard it would be to bring back a couple of pieces I played for memory last semester. Lastly, came down to write this. Shortly to be off to watch television and then bed.
On the organ, I worked on BWV 613, 614, and 615. The last two I played as prelude and postlude for church this morning. 614 went really well. 615 not so much. Got confused on the first page and really never recovered. My congregation is fairly forgiving, however. I did get an opportunity to practice bits of the Hindemith second Sonata and BWV 636 fugue. During the church service, I improvised on "Santa Claus is coming to town" and "Away in the Manger" as part of the children's time and passing of the peace.
ON the piano, i mostly just checked memory on parts of Children's Corner and Chopin's Op. 10 No. 3 and 4.