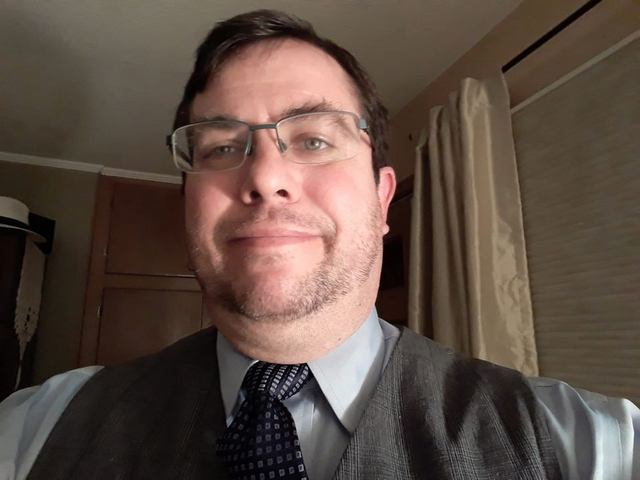 Day 6 no shaving. Itchiness has passed, but I can't stop playing with it.
Rather bumming day. I received a message yesterday about playing in a concert next Sunday, which I said I would do. Turns out the pianist who was supposed to play in it broke his right leg skiing this weekend. He is also my department chair. As he drove out to Colorado, he now has to figure a way to get home. This also means he had to back out of a concert we were going to do as a faculty on February 2. As soon as that news got out, four of the other faculty members also backed out of the recital, cancelling it entirely. I had been working on two piano works for it for about a month and a half and now have to change course for the concert on Sunday. Happy to play this concert, but it will be a little more of a "fluff" concert than I was hoping for. I then went in to work and put together a couple facebook pages and made reservations for a couple other concerts that I have coming up. I did get a little over of organ practice in before 1:30, when I taught a piano lesson to an older student. She picks things up rather quickly, but I am trying to get her to think of the piano as a string rather than percussion instrument. She tends to play everything staccato and relies on the damper pedal to connect things. I had to come home as the pest control company was coming to spray the house and check mouse traps. Was able to practice piano for a couple of hours before wife came home. Ate dinner and watched the news. I still have one more rehearsal this evening with Abu Bekr Chanters. Have lots of stuff to try and get done between this evening and tomorrow evening.
On the organ, I worked up the tempo on Mulet's Carillon Sortie. I almost have it at the tempo I took it back in October. I also spent time on BWV 613. It is speed on this one that will be the issue and keeping it at an articulate legato. I think I am sitting at about 3/4 tempo right now. It is very tempting to just play it all legato.... I finally spent time on the fugue of BWV 536--slow tempo seems to be alright. Trying to get to the point where it feels comfortable enough to start speeding up.
On the piano, i ran through two pieces I think I will play this Sunday--Debussy's Serenade of the Doll and Mark Hayes' I'll Fly Away. There is another piece I would like to play, but I can't seem to find it. I am hoping it is up in my office. It isn't difficult, but I would like to make some music with it rather than just playing the notes. I ran through Chopin's Op 10 No. 3 and 4, just to check memory. Op. 3 needs a lot of attention for memory. I can play it for the most part fine at tempo with the score. It is getting away from it that is the problem. No. 4 is mostly memorized at 2/3 speed. It is getting it up to the full tempo that the memory starts to fail. Just goes by too fast. Slow practice...slow practice. I worked through Beethoven's Op. 10 No. 2 first and second movement. First movement is mostly memorized and needs to start picking up the tempo for memory. The second movement I have begun to memorize. Minuet proper is pretty much there, it is the trio that is not even close. Also read through Brahm's Op. 120 No. 1 for a possible recital in late April and Beethoven's Op. 69 first movement. The plan is to do these two and potentially a Mozart violin sonata or the Poulenc flute sonata with these two depending on how responds first.