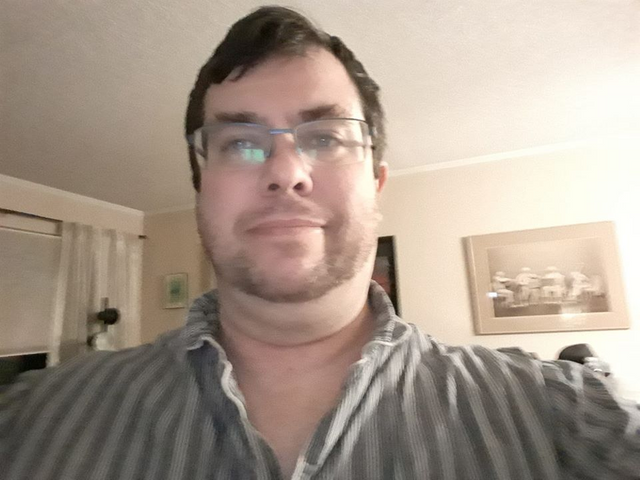 Day 8 no shave. March 22 it comes off....
Holy smokes, life has gotten busy and I haven't even made it back to work yet. Day began with a visit from an electrician to replace some plugs in the house (apparently I shouldn't be doing this--especially dryer electrical plugs). I was able to get about two and a half hours of practice in today, which is good because I suddenly have a lot on my plate. I am playing in a dedication of a new piano on Sunday; I will be playing a solo recital of Bach and Beethoven in March; I am trying to get together a chamber music concert in late April/early May (right now I have a celloist for the first movement of Beethoven's Op. 69 and a clarinetist for Brahms Op. 120 No. 1); and a bunch of choir music to learn. I also am trying to start a recital series at my church and have put it on myself to do several of them--played in December, playing in January, not sure about February yet, March is covered by another organist, and I am planning on playing May's recital. April I haven't worked out yet.
I made it in to my office in time to purchase a pepsi before my first lesson of the day came. Two lessons today with about an hour separating them. During the down time I worked on syllabi for next semester while watching Season 5 of IZombie. After the second lesson, I cobbled together a flyer about my January 19 organ recital and took my wife out for dinner at a Chinese buffet. Afterwards, I went to the church and practiced organ for an hour before choir rehearsal. I have an early day tomorrow. So, I am going to finish this up, write a letter, and get to bed.
On the organ, I worked on a couple of trouble spots in Mulet's Carillon Sortie--transitions that are somewhat complicated. I also ran through Bach's BWV 613 several times trying to make it feel comfortable in my fingers. Luckily it is short. I played through Buxtehude's Prelude, Fugue, and Chaconne in C major to check what parts need serious attention on Friday. And I worked on the Fugue of BWV 536.
On the piano, I played through my pieces for Sunday's recital at half speed and full speed, stopping to look at a couple of trouble spots. I worked on some choir repertoire for my church choir as well. Ended with working on the first and last movements of Beethoven's Op. 101.