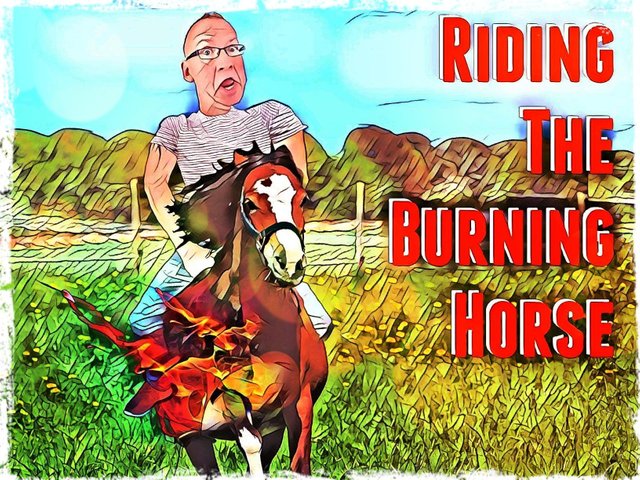 Showcase Sunday! A time for posts we are particularly fond of, that perhaps deserve another airing doon the steemie.
In the light of the ending of the bear market approaching... I mean, it's nearly the end of the year and it's always next year that everything is going to moon, so not long at all ;0)
I thought it would be valuable then, to submit this one. It gives valuable insight on how to capture that vital moment the market swings.
And I couldn't resist the artwork getting a fresh airing. Me! On a burning horse!!! So let's get to it...
---
Here we are once again with the series on Crypto Trading that promises to make YOU, a humble nobody, a worthless piece of himjiminy, a King of the crypto sea. An actual something that's worth something.
I know, you are thinking, how can I, a worthless piece of shit achieve anything?
Well that's what I am here for. Consider me your sensei. So let's kick back and learn how to become...

But to become a King of anything especially a King of Crypto you must first learn to read patterns.
Oh I know, I hear you groan. Trading Analysis is bullshit.
I hear you sister-brother-man. It is. Sheer bullshit on a grand scale. That is why I promise not to teach you Trading Analysis such as anything you have ever seen but Trading Analysis that actually works™.

Yes, it's true.
It's a secret that is known only to a select few. Those of us who have really saw the dark and bleeding heart of the market.
Are you ready?
We will start with one of the most important signs of all. One that will guarantee* your fortune.
*not guarantee

But what the hell is that!? I hear you scream in frenzied adoration?

It's the sign that categorically shows you when the market is turning from bear to bull. The one and only sign that shows you when it is time to throw caution to the wind and BUY BUY BUY!!

But that's not all ladies and gentlemen.

I am going to show you the greatest technique of all once you identify THE BURNING HORSE...

After all, what point is there in recognising when the market finally becomes a BURNING HORSE if you don't do anything with that knowledge?

And that is what I am going to show you.

FACT.

I will show you how to...

I cannot say anymore than that.

A burning horse pattern will typically look like this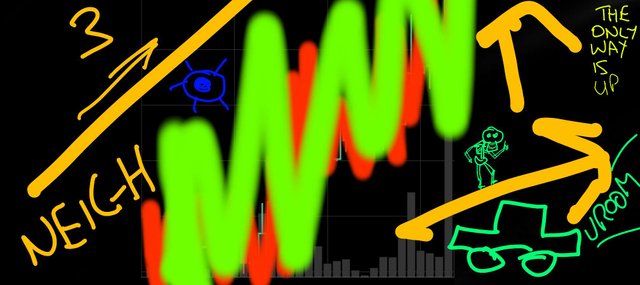 The more experienced among you may know this pattern as the Yousuf's Folly. That however, is a story for another day.

If you see a chart that looks EXACTLY like this one, you are seeing THE BURNING HORSE.

My advice?

Start RIDING THAT HORSE!!!

GO OUT AND BUY THE COINS SITTING at positions 1 3. 5 and 8 on Coin Market Cap with ALL of your money. That's right, ALL OF IT.

You might be wondering... Why these coins?

Easy! It's FIBONACCI, BITCH!

Now, ignore dips in the value of your coins after your purchase. Even if these go on for many years. That is the horse trying to buck you out of its saddle

If anyone challenges you and your new found Crypto Kinghood.

Tell them straight.

It's HOLISTIC baby.

It really is that simple.

You're welcome.