Last week I first about showcase-sunday. For anyone who, like me, has not heard of this before, #showcase-sunday is an initiative started by @nonameslefttouse where we gather some long buried content to showcase (hopefully) to new sets of eyes. My Steem journey is only one and a half year old. The first year or so I happily poste my stuff for only a few readers. So, I like the change to post some of it again, my own personal favorites.
This was one of my first posts. The third to be precise (https://steemit.com/classical-music/@partitura/johann-ludwig-krebs-trio-c-moll-krebswv-438). Krebs is not highly regarded as a composer. Yet, I like his music very much.
Johann Ludwig Krebs wrote many outstanding trios for the organ. Where for his choral works and in several of the free organ works one can pinpoint a work by Johann Sebastian Bach that served as a model, Kreb's trios are based on Bach's general style of trio writing, not on individual examples. Kreb's trio in c minor, KrebsWV 438 is no exception. A steady bass provides the musical underpinning on which two freely moving musical lines wave intricate lines together.
The recording was done with the Hauptwerk software and the sampleset, made by Voxus, of the Müller organ in the Sint Bavokerk, Haarlem (http://www.voxusorgans.com/en/product...).
Score: http://partitura.org/index.php/johann.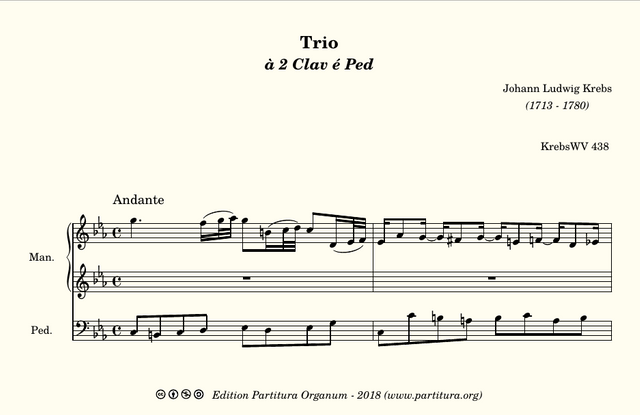 ---
You can support me using Steem Basic Income

---