I did a short ride on the e-bike today to get a load of groceries. It was almost raining just a bit but warmer. When it clouds up around here it often gets a bit warmer.
I was not sure if I wanted to down to the park for disc golf because it was just sprinkling a little. I did decide to play a game and I'm glad I did because it was a really nice temperature and never rained very hard.
I scored three birdies, two bogies and the rest at par for a one under par score for the nine baskets. I felt like I was throwing pretty well and only had one really bad shank that sailed way off course. (Note to friends: never stand between a disc golfer and the basket, getting hit by a high speed driver at short range would not be pleasant.)
Here's the photo opportunity in the drab grey sky day: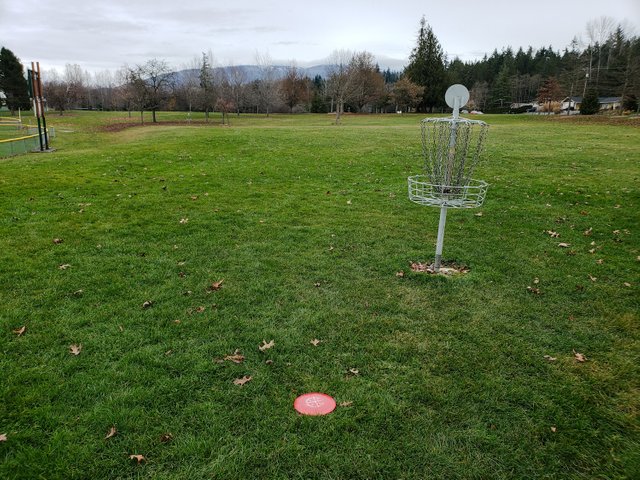 (I actually enjoy the grey sky days too, it is interesting to have the contrast. Colors can come out very nice if you can find something to photograph.)
When the disc lands right by the basket like this it is fun to take a photo. What you don't see here is the ball park sign is mandatory to throw to the right of so the disc has to travel slightly uphill and curve to the right without much fade. There is also an out of bounds sidewalk close by that comes into play if the disc is overthrown.
It does make it a fun course and I have got a lot of practice in on it.
I would like to go play the new course again and I might if the weather is good enough tomorrow. It is pretty close too but getting there is much more difficult because the roads are very busy and not very safe for bicycle riding. (Maybe if it gets even more congested with traffic it will become safer for me to ride my e-bike between the slow moving cars, lol)
I wish there were some better bike paths and lanes around here but I guess there is always some room for improvements and different priorities.
---
Thanks for reading! I always value your support and comments. The pictures were taken by me with my Galaxy S9+. Text and graphics copyright lightsplasher & litesplasher.

---


10039

Cycling, Daily Activity, Golf, House Chores, Walking