It was lightly raining again this morning and I debated if I wanted to head out... turns out I decided to play the new eighteen basket course again. I met some friends there and had a great time.
The first round we played through the eighteen using best shot doubles scoring and ended up getting right at par.
On the next round there were three of us who played together and we finished, nine, eleven and thirteen over par. I ended up with the best score. It was just a bit rainy and windy on the second round and we were all having difficulties with the wind.
A couple to throws came very close to ending up in the river on the second round. We were lucky that nobody lost any discs. The course is just the right level of challenge and it is fun to have some element of risk on the some of the baskets.
Lots of people are out walking their dogs off leash here. There was one dog that was very interested in carting off with my driver discs but their owner was nice enough to call them away.
All together I ended up playing thirty eight or so baskets and some warm up throws. I also rode about ten miles on my e-bike.
Having fenders on the e-bike is really nice this time of year because there is a lot of mud and water on the roads. I ended up with 1111 miles on the e-bike odemeter when I arrived home. Here's a picture of it and my new over-stable throwing putter: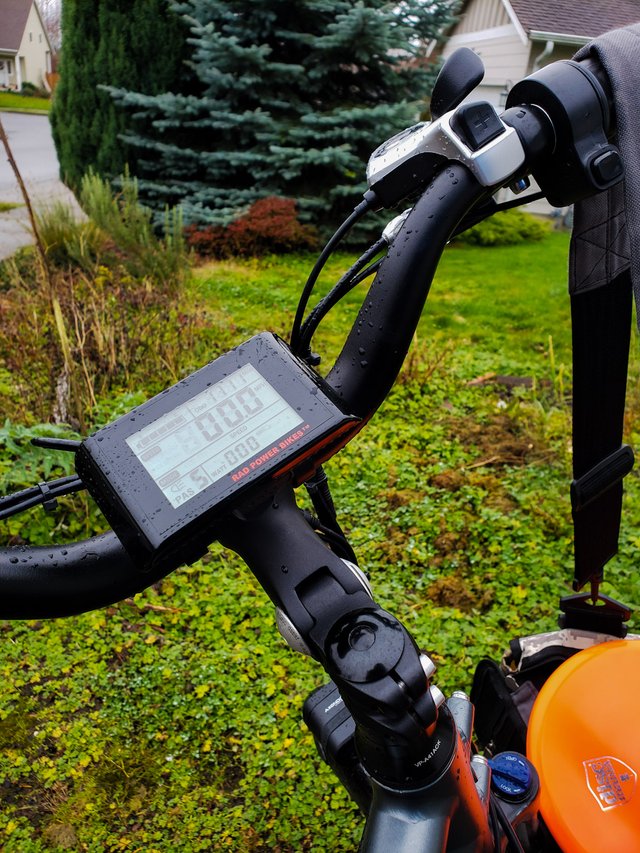 I really like this new putter, it is great for the longer approach throws. The color is so bright that I can find it very easily in the leaves and stuff.
The weather has been "nice" for this time of year and I will probably head out again tomorrow. (Perhaps a bit dreary and rainy but that is much better than being hip deep in snow and having to cut a escape door near the roof to get out when the snowdrifts close off the main door imho. That never happens around here but my dad used to tell stories about it.)
---
Thanks for reading! I always value your support and comments. The pictures were taken by me with my Galaxy S9+. Text and graphics copyright lightsplasher & litesplasher.

---


18063