This morning it was a slightly lighter shade of grey and not raining so I headed out and played the new eighteen basket disc golf course again. This time I was by myself and practiced throwing multiple drives on each basket when I wanted to.
It is a about a five mile e-bike ride to the course for me. I can get there about as fast as it takes a car.
Here's a look towards the tee pad of one of the harder baskets to make: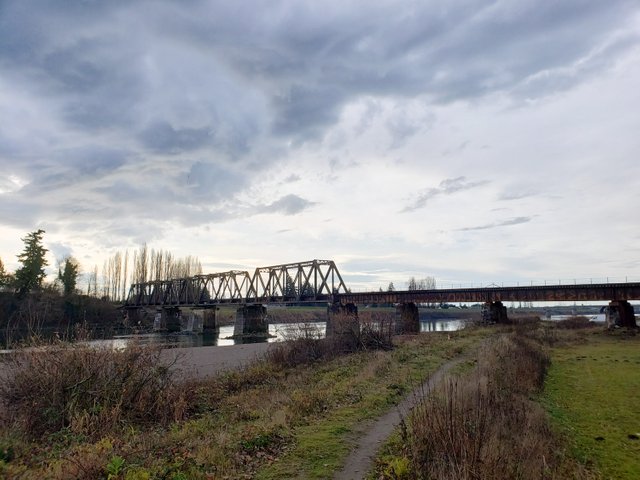 The little orange flags in the above photo show where the tee pad is. The disc must be thrown around or under some tree branches. The best line is out towards the river but if it does not fade back it will end up in the bramble bushes or river.
Here's a view towards the basket: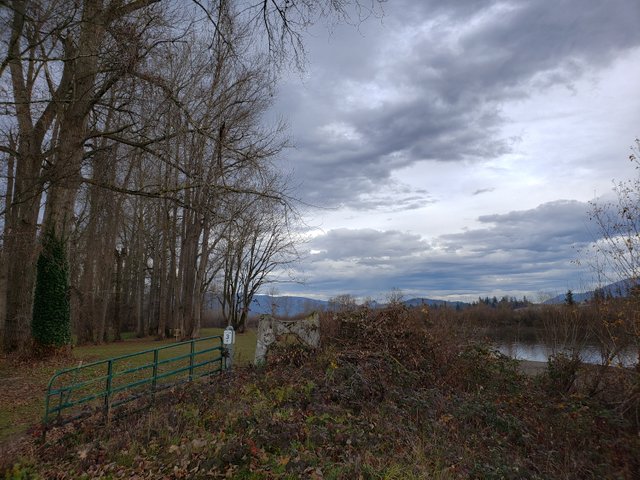 I only made one throw off the tee here because it is hard to see where the discs land and I did not want to lose a disc.
Later in the course I made what I thought was a pretty good throw and watched the disc sail way down through the woods and hit a tree. I did not see where it landed but thought it would be pretty close to the tree.
I looked and looked but could not find it where I thought it would be. I kept going back to the tee to try to remember which tree it was that I hit. I thought maybe it had kicked so hard off the tree that it rolled into the river or something because it was nowhere to be found.
Finally I found it here: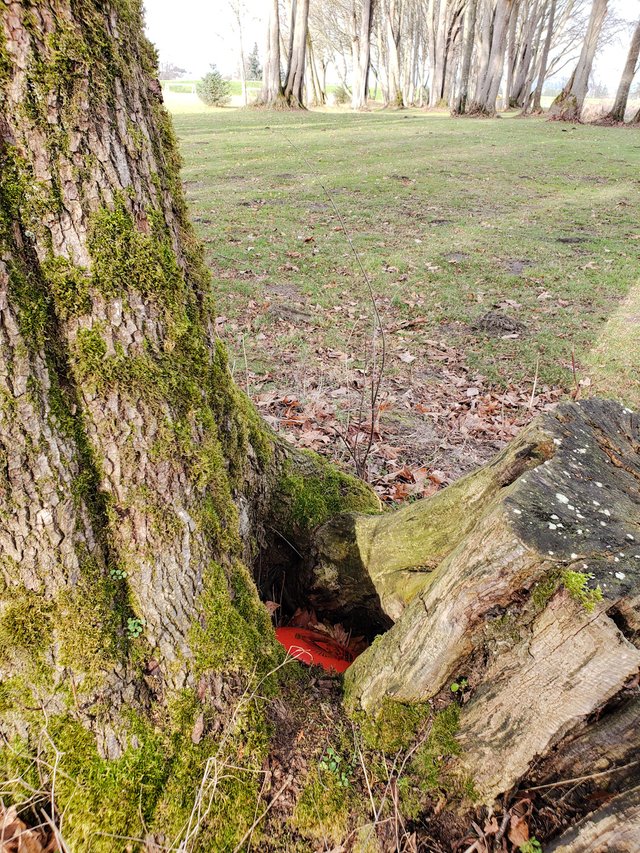 It was right there in the tree I saw it hit. This is not the first time I've had a hard time finding a disc in a hollow stump.
I had a great time playing but I noticed that I tend to heat up a bit when I'm walking around trying to find a disc. I guess it must get my adrenaline going or something. I'm really not doing much physical effort except looking for something.
---
Thanks for reading! I always value your support and comments. The pictures were taken by me with my Galaxy S9+. Text and graphics copyright lightsplasher & litesplasher.

---


11985

Cycling, Daily Activity, Golf, Walking