In Nomine is a work written by Steem user @michaelcalabris when he was a senior undergraduate composition student. Michael describes it as follows:
"In Nomine" is a short organ work (ca. 2'00'' in duration), perfect for both liturgical and concert performance. The Phrygian mode, in which this piece is set, imbues the work with a mystical quality.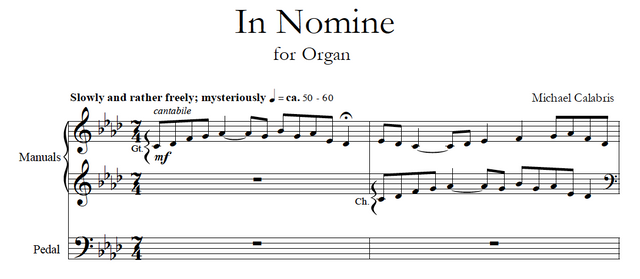 Michael is currently writing an organ composition for me—which I am very excited about! He's a very busy person so I appreciate the kind gesture. In the interim, he sent me two of his organ works to keep myself occupied. The first being Pastorale (not yet posted to Steem) and this work, In Nomine.
I would describe Michael's compositional style as accessible, based on modal harmonies and have an improvisatory character. All of these qualities make for excellent organ pieces. I believe he also recently composed A Fughetta in the Phrygian Mode for @organduo. Michael was onboarded onto Steem by @organduo possibly a year ago (?) after they met on SoundCloud. I'm truly grateful that we've made a musical connection here on Steem!
The score for In Nomine can be purchased from Sheet Music Plus.
---