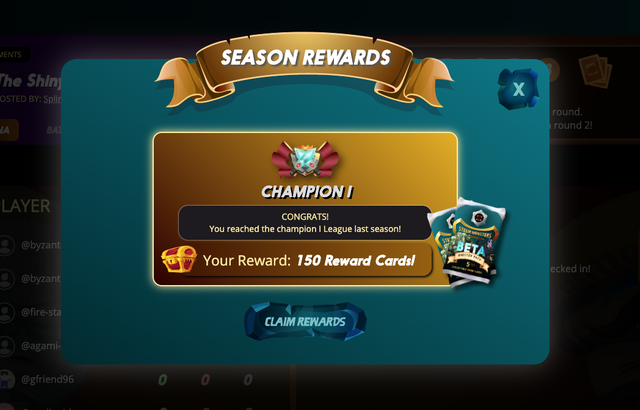 So nah dran - und doch so weit entfernt
Die Season ist grade um 10 Uhr zu Ende gegangen. Eine Saison, die es wirklich in sich hatte. Jede Menge UP'n Downs im Ranking waren an der Tagesordnung. Zwischenzeitlich habe ich es mit einem langen Winstreak auf die Platzierung 3 im Leaderboard geschafft. Das war so ca. die Mitte der Season. Mit 5118 würde man aber nicht am Ende der Seasons irgendeine gute Platzierung erreichen.

Am Ende doch in den Top 50
Am Ende der Season habe ich es aber dennoch auf den Platz 40 geschafft mit 5384 Punkten. Hierbei winken dann wieder einmal 10 BETA Booster Packs.

Reward Karten
Als Belohnung für die harte Arbeit bei den Matches winken 150 Reward Karten. Aber, da vor kurzem ja auch die neuen Reward Karten Announced wurden, glaube ich, das ich mit dem Öffnen der Karten warte - bis die neuen Karten da sind. So kann's dann gut möglich sein, doch einige der neuen Karten zu erwischen.

So close - and yet so far away
The season just ended at 10:00. A season that really had it in it. A lot of UP'n Downs in the ranking were the order of the day. In the meantime I made it with a long winstreak to the 3rd place in the Leaderboard. That was about the middle of the season. But with 5118 you wouldn't reach any good position at the end of the seasons.

But in the end I' m in the top 50
But at the end of the season I made it to rank 40 with 5384 points. Here again 10 BETA Booster Packs come up to me.

Reward cards
As a reward for the hard work at the matches, 150 Reward cards are waiting for me. But since the new Reward cards were also announced recently, I think I'll wait to open the cards - until the new cards arrive. So it might be possible to catch some of the new cards.
---

Splinterlands.io Trading Card Game
Nextcolony.io Space-Browsergame

Deutschsprachige Steemians im Discord

@cleanplanet Project Eco-Citizen on Steem