As most of you Monster Maniacs know already, Splinterlands hosted some amazing tournaments to promote their Splinterlands Kickstarter. The Kickstarter campaign has since ended and the issuing of rewards to those who participated in the Kickstarter is currently in process.
The first of those promotional games played on 11/03/2019 and had $236 USD worth of in game currency and assets up for grabs. The second was played on 11/07/2019 and had $879 of value added to it.
The Kickstarter might have ended but the Kickbacks from its success hasn't. The founders of Splinterlands have once again placed up some added value tournaments on top of the ones we already get as yet another Thank You to the players for making the Splinterlands Kickstarter a massive success.
This time we have three added tournaments to play along side the regular scheduled tournaments. They are fittingly named Light Weight Championship, Middle Weight Championship and Heavyweight Championship. These three tournaments combined has a current total value of $772 USD up for grabs. Each tournament will be played on 12/14/2019 in the Silver/Gold and Diamond leagues.
Light Weight Championship
Silver League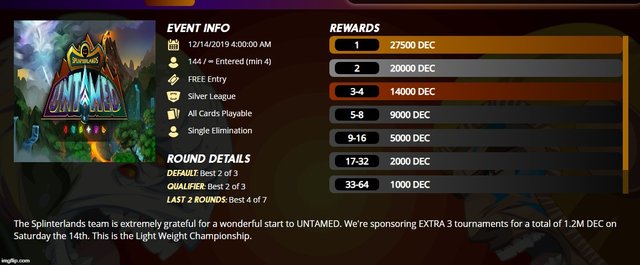 Middle Weight Championship
Gold Cards + Gold League

Heavy Weight Championship
Diamond League

As you can see 64 places pay in each one of these games so the chances of you being able to cash in at least one of them is on the higher side. So mark the date on your calendars and set your alarms as you're not going to want to miss these games.
---
Splinterlands (also known as Steemmonsters) is a digital card game created by @aggroed and @yabapmatt. Early game release has launched and prizes are already up for grabs. You can get started with playing and/or investing in Splinterlands by clicking here.
---