I love sports but I mind the ones I engage in because of my skin, I do not want scars. Haha. But there is one scar I could not escape having.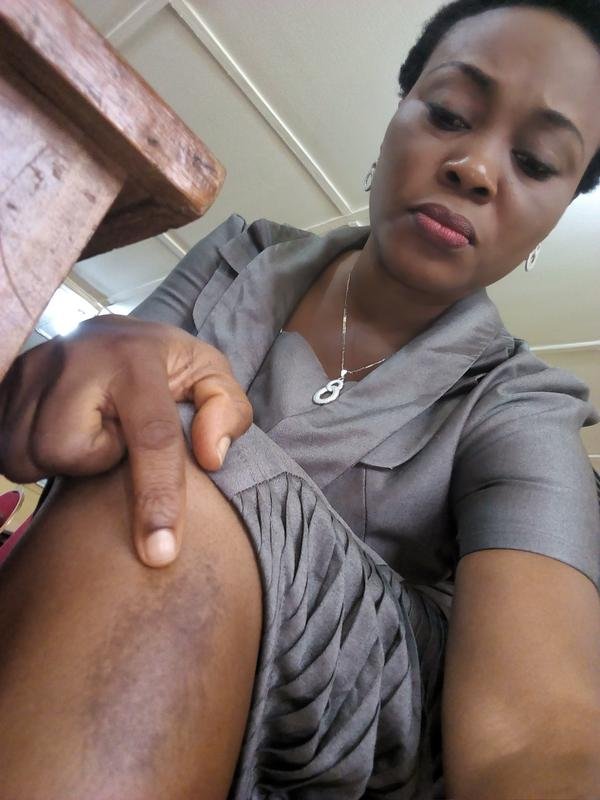 snapped now with my infinix hot 5 phone
First thanks to @abh12345.sports for the contest.
Here's the story
This is more embarrassing than the one i mentioned in the comment section of @abh12345.sports post about the contest.
In the injury shown in the picture above, I attended an inter-house sport competition in my child's School. When they ran a 100m race, my child took the second position. Although she was sad, but I calmed her down and encouraged her not to lose hope, that her house would emerge as the final winner after all.
Not long after that, it became time for parents' race. Just for fun. My child looked up and asked me to go and run. She even asked me to promise her I will be the winner. Oh my God, I was scared but because I didnt want to disappoint her, I went for the race. ( Although I was weeping inside me in advance, for my impending failure, haha). Ok, I said. Let the race begin.
Many other parents joined the race, probably to please their wards also. We were very many, the coach didnt bother to split us into groups.
As the race began, I ran and ran, so as to impress my child. But the push, and pulling of one another's shirt was too much. Some were leaving their lanes and running anyhow. I wonder if those parents ever attended physical and Health Education class in their School days nor know any rule about race.
Before I knew it, someone pushed me. I fell to the ground on my left side, my clothes covered in dust. I was so ashamed to come out of the field. When I managed to get help, I stood up and went to the crowd. I received a lot of mocking cheers, haha. To worsen the embarrassment, my child told me that when I fell, my skirt had raised up, exposing my underwear. Haha. I was so embarrassed?
I dusted off my clothes, it was in the process of cleaning the dust off my body that I discovered that i had sustained an injury on my left leg. My precious skin had peeled and up till now, I have the scar as the picture above shows.
Thanks again @abh12345.sports, you make remember. Sports is an interesting game, I love sports, but for fear of injuries, I go for individualised sports, not for competition, anymore.