The calasancias team asked me to make a platform to train the block, they sent me some photos of examples of other teams that did something similar, this way they could work the block, shot and block-out, support in defense ...

Picture link: https://www.pinterest.es/pin/396668679669594962/
The first thing was to look for the material, I was looking for a wood or fiber that was solid and not too heavy, the platform will have to be elevated for a while and can be uncomfortable for the person who uses it.
Trying to do something "economical" I found a bar table that had broken legs and I was able to take advantage of it. The measurements were approximately 1m x 1m.
The first thing was to sand it, it is not too professional to see the logo of Estrella Galicia while colleagues are training.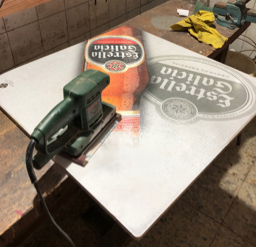 I used an electric sander with a medium grain sandpaper, it took me a long time to get the image without removing the white background of the wood, but with a little patience I was able to get it out.
Once sanded we began to shape the top with a jigsaw, the idea is to make 4 hands to train the block in a situation more or less similar to reality.
Once drawn and cut we turn a little the edges so that it is not in corner, since it can spoil the balls...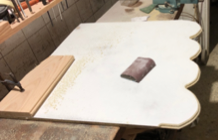 Finally, we had to find the best way to hold the platform. I went for a walk in the village hardware store to see what options they had. I shuffled different options:
Make some wooden supports with the lathe.
To make some wooden supports and that the elbows could be supported for greater subjection.
To buy in the hardware store something that was comfortable and light for me.
Finally I found some trowels with a rubber base, which will help to withstand the vibrations produced by the hit of the ball.
I drilled with a drill bit of 6 and screwed the whole set.



Now all that's left is to do the fire test in a training session.