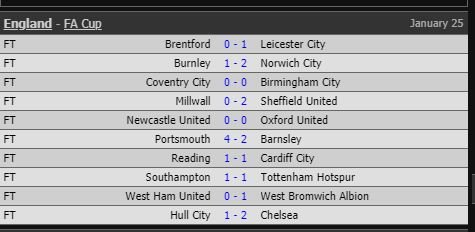 image source
Hello Sports and Soccer lover, today i bring you the results of today's game in the English FA CUP matches, will list teams that have qualified into the next phase of the competition and scoreline of their match played in today's encounter.
Leicester qualified into the next phase of the competition after beaten Brentford by alone goal, while Norwich City eliminates Burnley 1-2 goal to move to the next stage.
Another team to have booked for the next round of the competition was Sheffield United, West Bromwich Albion, Portsmouth.
Fortunately and unfortunately for some teams who need another 90 minutes to determine their participation will need to reface each other for a return fixture in the competition as Tottenham will host Southampton, while Reading will visit Cardiff City, Birmingham City will host Coventry City, Oxford demanded for a return against Newcastle United after forcing a goalless draw.
A late showdown saw Hull City hosted Chelsea but couldn't contain their visitor as Chelsea defeated the host y 1-2 goals.