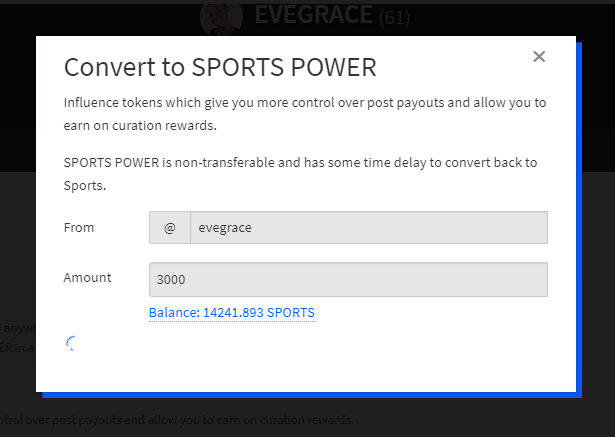 Some days back , I staked 2000 SPORTS and reported in this post. I had my 12k SPORTS I placed an order for successfully delivered to my wallet and I decided to make a stake of 3k SPORTS.
Each passing day, I will be making stakes of tokens in increasing amounts till I reach about 500k SPORTS which should be a good amount of tokens that should give some reasonable amount of curation rewards.
I also wish that in the coming day, I will begin to be reporting female Sports around the world. I ama woman and want to defend the cause of a woman as I know terrible things women go through.
By now, it's no more news that I wish to use earnings from SPORTS tokens staked to kickoff my life project - @blesstheorphan.
You see with this move, even orphans that are skilled in Sports will be sponsored for the relevant training.
SUPPORT MY STEEM PROJECT
@BlessTheOrphan project is targeted towards children and teenagers who have lost either or both parents and are going through difficult times to survive. The affected will receive relieve materials including food, clothing and educational support from @BlessTheOrphan project in a bid to help them survive.
Moreover, the vulnerable girl-child (even with both parents) will be considered in this project. While I grew up, I had been hurt because I had no one to talk to nor be concerned with my worries. I know the pains such girls go through and @BlessTheOrphan project will be a coverage for them. In this part of the world, some girls are so neglected that some rarely have access to the basic woman's need such as sanitary wares. #BlessTheOrphan project will be a coverage to such.

Friends, Beatitudes (HEARTs) is for all, Be a part of this Blessing...
---
---
---
---
Hey! to you trying to give-up, wait yet a bit. Your sorrows and troubles are not the end of you. You will smile again. Jesus is the bright and morning Sun. He will lighten you day.

I hope you'll engage my post with your comments, upvotes and resteems. Thank you.