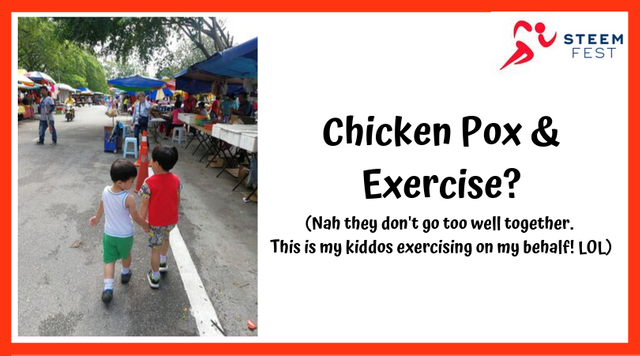 Hi everyone Steem Fest is about 35 days away and things sure are ramping up! I thought that I was going to miss posting this week for the competition because I got infected by chicken pox on Monday and have been feeling awful all week. The pain is bothering me a lot more than the itching!
Ticket prices went up again and it is now 333.33 Euros for a plankton ticket whilst the regular tickets cost 533.33! Wowzers! Do check out the SteemFest website for more info and also @roelandp posts on Day 1 and Day 2 venue updates. Thanks again to @actifit and @blocktrades for this opportunity to possibly win a SF tix + accommodation! It would be wonderful to be able to win it!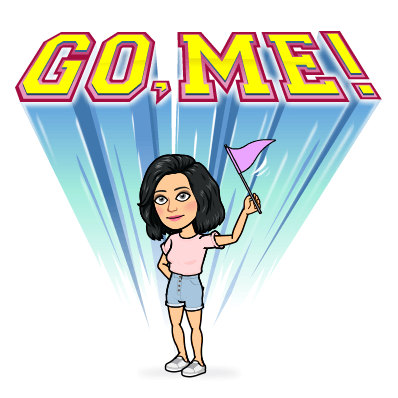 Yesterday was just about the first time in a whole week that I have been able to get out of the house because of the chicken pox! No, I don't remember getting it as a kid and yes, it sucks getting it as an adult. Truly inconvenient and honestly exhausting. I guess because as an adult we all have a lot more responsibilities like children, work and household and when you get a viral infection as bad as chicken pox, you life basically get's put on hold. It is frustrating not being able to do a much but it is also a time to just wind down and rest. The scabs are starting to dry out and I do feel better so yesterday I decided go out for walk.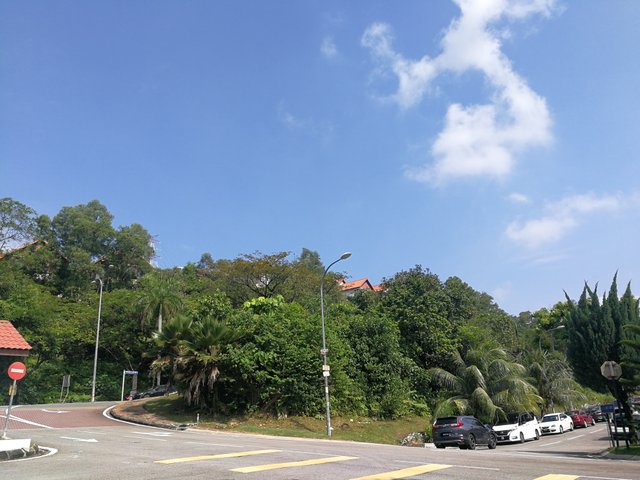 Check out the beautiful blue skies!
I just couldn't resist taking a shot as I was driving out of my home
The last two days have also been wonderful as it has been raining and the skies have cleared literally overnight. When we got out of the house it was blue skies, quiet breeze and fresher than before air. I decided to go to the morning market to see if I could get some fruits and then go for breakfast at our local favourite nasi lemak, half boiled egg and iced coffee. The boys were excited that they are usually full of energy in the morning. So off we went on our little adventure. It was a lot of walking for me but it soon it got too hot and I was starting to feel really uncomfortable.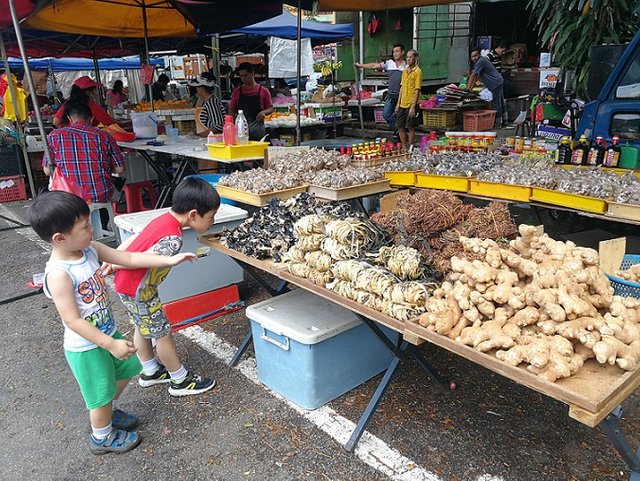 The boys checking out all the stall in the market, this was an interesting one with dried mushrooms and ginger...lots of it!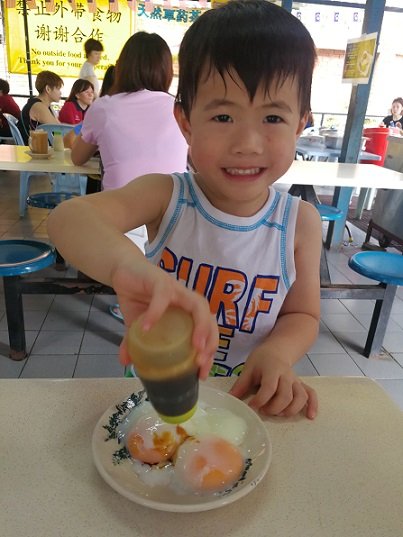 My little Murtabak's favourite breakfast half boiled eggs!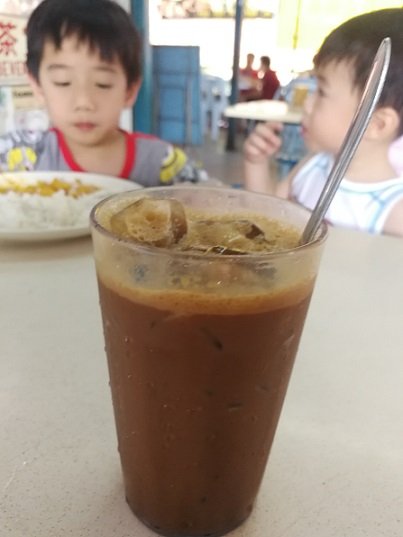 Nothing makes sense before coffee...kopi ais anyway...
Time flies when you are having fun and it was past 12 already when we headed home. The boy's kindergarten had their yearly school concert today so I needed to get home so that both of them could get some rest before heading out again. While they slept, I did some chores around the house and managed to pick up more steps and then my hubby came home from his work seminar earlier too so that we could all get ready to go in time. On top of that we were picking his parents and one of my sons' friend at school and her Mum to the concert together. I of course couldn't attend the concert in case I would pass on my infection to the children so after driving them there, I sat myself down at PappaRich for 2 hours to work on my posts for Steemit.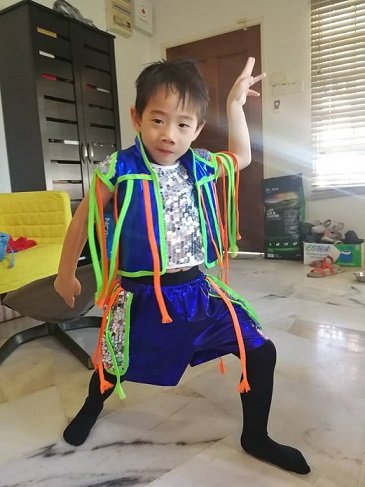 My Chapati trying on his costume for the concert! LOL! Stylo milo pose!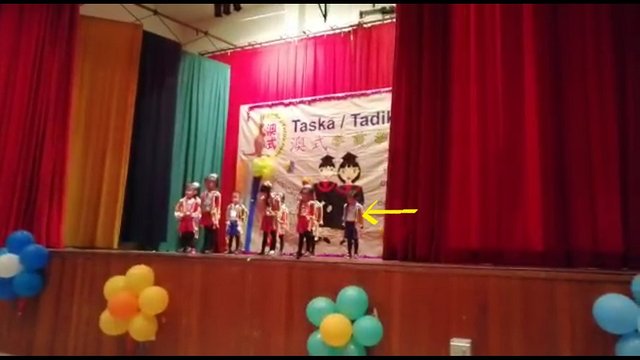 Since I couldn't be there Hubby took pictures and vidoes for me. Yellow arrow is my little Chapati!
Soon it was 6 pm and I went back to the hall to meet them up and off we headed for dinner. I just realised that I didn't get any pictures of the food because we were all so hungry but we ate in Kajang and this restaurant serves delightful pepper pork soup (lat tong) in a claypot which is their specialty! Everyone was so hungry that we finished dinner very quickly and that was good too because during the weekends this place is packed to the brim with people. It get a little stressful during the peak dinner time and we were glad to be gone. So what do you do after hot soup with kids? Ice cream of course! Family Mart here we come!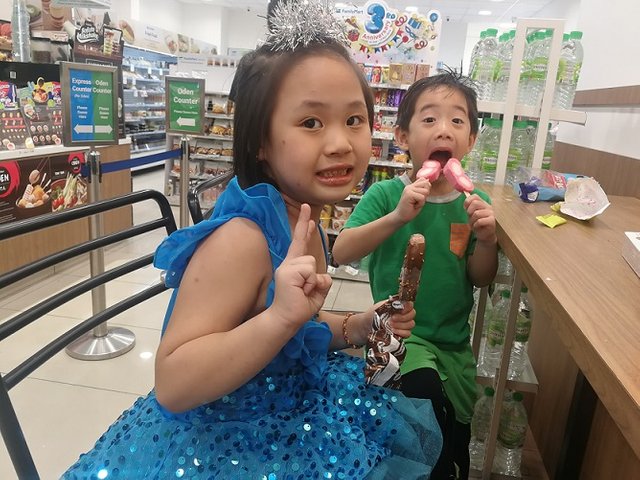 Enjoying their ice cream! Yum!
After ice cream, the kiddos and parents were of course tired and so I put them to bed asap. I love spending time with them just before they fall asleep! Sometimes we just read books and chat but we never forget to pray and read the Bible!
I hope your weekend was awesome and thank you for dropping by my little space!
Xoxo,
Khim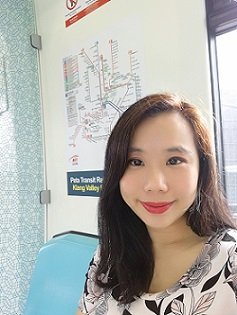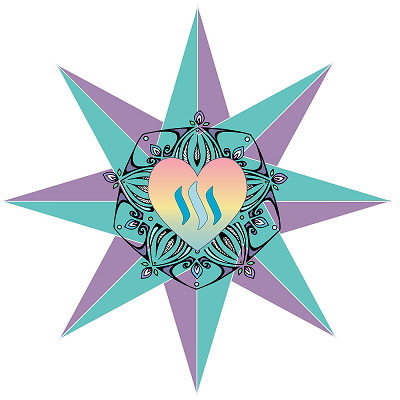 15712

Chasing Pokemons, Daily Activity, House Chores, Play with kids/grand kids, Walking