Indonesia defeated Myanmar 4-2 and proceed to the final of SEA Games 2029. Indonesia played pretty well when defeated Myanmar. In my opinion, Evan Dimas and Zulfiandi became generals in the midfield and made Indonesian squad played very good and well.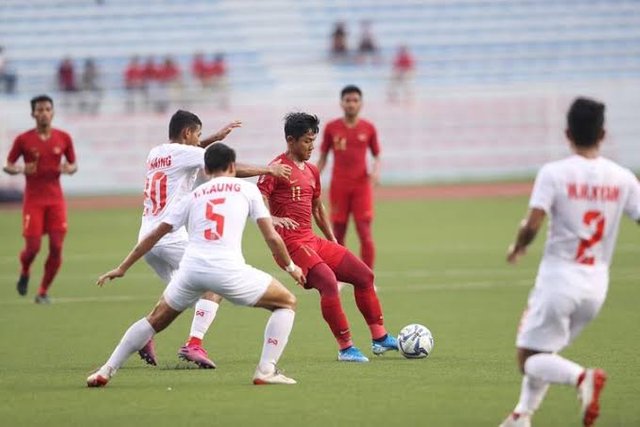 Source
Zulfiandi and Evan Dimas are the most talented young players of Indonesia, who have played together since years ago. 'Garuda Muda' defeated Myanmar 4-2.
In the final round, Indonesia would play against Vietnam. In the previous match of Group B, Indonesia was defeated by Vietnam. In the final game, Indonesia has a chance for revenge.
I hope that Indonesia will be able to defeat Vietnam and win gold medal of football of SEA Games 2019. Indonesia has a great opportunity to win it.
BAHASA
Indonesia mengalahkan Myanmar 4-2 and proceed to final of SEA Games 2019. Indonesia bermain sangat baik saat mengalahkan Myanmar. Menurur saya Evan Dimas dan Zulfiandi menjadi jendral lapangan tengah dan membuat permainan Indonesia sangat baik dan mengalir.
Zulfiandi dan Evan Dimas adalah most talented young players, who have play together since years ago. Garuda Muda berhasil mengalahkan Myanmar 4-2.
Di babak final, Indonesia akan kembali melawan Vietnam. Pada pertandingan sebelumnya Indonesia kalah oleh Vietnam. Pada laga final nanti, kesempatan Indonesia untuk balas dendam.
Saya sangat berharap Indonesia mampu mengalahkan Vietnam dan menjuarai sepakbola SEA Games 2019. Indonesia punya kesempatan besar untuk mengangkat tropi sepakbola SEA Games.