Indonesian national team destroyed Laos 4-0 in a Group B match at Imus Granstand Stadium, Philippines. After defeating Laos, Indonesia qualified for semifinals of Sea Games 2019.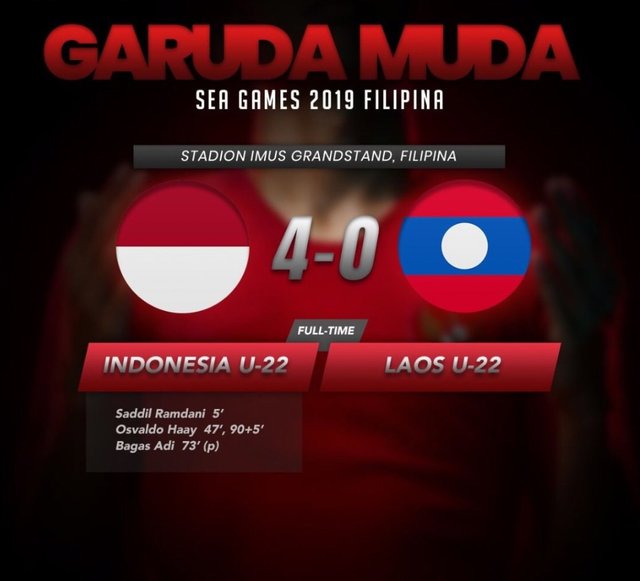 Source
Indonesia played very well, talented young players like Zulfiandi, Evan Dimas and Maulana Vikri performed very well.
Zulfiandi is a young player from Aceh Province who is a retainer of the national team. He plays as midfielder. His position is the same as Bosquets in Barcelona.
Source
After winning from Laos, Indonesia will play in the semifinals. I hope Indonesia could win Sea Games this years. The tough opponent they must face is Vietnam.
I am sure, Indonesia will be able to defeat opponents in semifinals and final of the Sea Games 2019.
BAHASA
Timnas Indonesia usia 22 menghancurkan Laos 4-0 dalam pertandingan Grup B di Philiphine. Setelah mengalahkan Laos, Indonesia lolos ke semifinal Sea Games 2019.
Indonesia bermain sangat apik, pemain-pemain muda berbakat seperti Zulfiandi, Evan Dimas dan Maulana Vikri tampil sangat prima.
Zulfiandi merupakan pemain muda dari Provinsi Aceh yang menjadi punggawa tim nasional. Dia bermain di tengah. Posisinya sama dengan Bosquets.
Setelah menang dari Laos, Indonesia akan bermain di semifinal. Saya berharap Indonesia dapat menjuarai Sea Games tahun ini. Lawan berat yang harus mereka hadapi adalah Vietnam.
Saya yakin, Indonesia akan mampu mengalahkan lawan-lawannya di semifinal dan final Sea Games 2019.