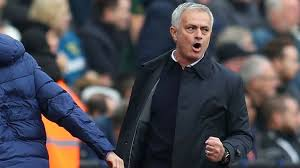 Photocredit: skysports.com
Tomorrow evening Jose Mourinho makes his return to Old Trafford in what looks like it may be a judgement day for Ole Gunnar Solskjaer. The truth is nothing has changed since Mourinho left Old Trafford and while a change may have been necessary, Ole was supposed to be the interim manager and nothing more while they waited for the next manager to show themselves. His great start was clearly more a fluke than anything and rather than waiting until the season ended they handed him the full time job. It's confusing why they didn't wait for the season to end to make a decision. It's the equivalent of Arsenal giving Freddie Ljungberg the job if they win a few games.
United actually have one of the better records in the premier league if games ended at half time. Getting the first goal is not actually their issue whatsoever. Also misleading is the fact that their 17 goals against is only bested by 4 teams. But they're catching up to other teams by allowing 5 in 2 against newly promoted sides. They have given up points from winning positions in 6 of their 14 matches. They easily would be in the top 4 had they not. Liverpool have done the opposite. They're stealing games when they were either losing or in a draw. United have only salvaged 2 points from losing positions and those were the last 2 games in which they blew leads thereafter so it doesn't really feel as good. It's really more 4 points dropped than 2 points gained. In no other game have they salvaged something late the way Liverpool do week in and week out. But the most worrisome thing has got to be that they can't finish games in which they are winning. The coach needs to take responsibility for this, especially consider there was an entirely changed side playing against Astana last week but the outcome was all too familiar. They blew the lead and actually lost the game. One thing was constant. The coach.
The next few games should be 3 strikes and he's out. And let's just say his chances aren't great. He has Mourinho's revived Tottenham first up, then the Manchester Derby at the Etihad, then AZ Alkmaar at home, then a desperate Everton (Who may have changed their coach themselves by then). He likely doesn't survive this.