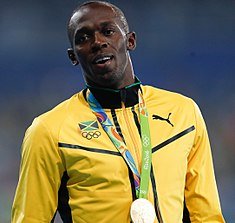 He was born on August 1986 (age 33) in the city of Sherwood Content, Jamaica, nicknamed lighting bolt and resides in the city of Kingston Jamaica.
Will Sprint and athletic ever forget this man holding and smashing records upon record, even he is recorded as the greatest sprinter.
Christened Usain St Leo bolt is a name the world of sport can never forget. He is from Jamaica and his country can never forget him.
He is a world record holder in the 100 metres, 200 metres and 4 × 100 metres relay.
He is an 8times Olympic gold medalist and has smash record by winning gold jn 3 consecutive olympic.
He made a record of winning a race in 9.69seconds and smashed his own record by hitting the record of 9.58.
He has also won 11 world championship and he is tagged as the most successful athlete in the world following his different wins and records.
He has won numerous awards like:
IAAF World Athlete of the YearTrack & Field
3 times BBC Overseas Sports Personality of the Year.
Laureus World Sportsman of the Year
Athlete of the Year amongst many other local and international awards.
Bolt retired in 2017 and states that football has been a dream for him which he went on trial to the club he support Manchester United.
He played for Australian A league club central coast miner as a winger. He retired from football in 2018.
Bolt is a sportsman, philanthropist and entrepreneur.
Cheers to Bolt.