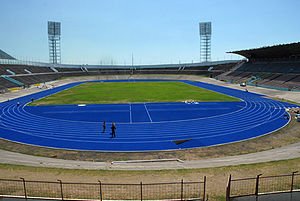 The independence park is situated in Jamaica, its a cultural center likewise a sport center and it's the most popular Stadium in Jamaica.
The main attraction there is the stadium which host the National football team especially the raggae boys and also the rugby team likewise. It is called the home stadium of the football team as it is situated in the capital city KINGSTON.
It is built in 1962 and it can occupy 35000 people.
It has in it the statue of the icon Jamaica raggae star BOB MARLEY.
The National Stadium is primarily used for football (being the home field of the Jamaica Football Federation) but is also considered the apex of Athletic competition in the West Indies being home to Jamaica's national athletic team for the Olympic Games and Commonwealth Games.
It was built for the 1962 Central American and Caribbean Games[citation needed], for which it was the main stadium hosting the opening and closing ceremonies, track and field and cycling events. It was also home to the 1966 British Empire and Commonwealth Games. It holds 35,000 people.[2]
Facilities include:
a 400m IAAF regulation running track (a warm up track east of the main stadium was recently renovated to create a second world class competition track)
a 500m concrete velodrome which encircles the running track
a FIFA regulation football pitch
a media centre
11 private suites and a royal box.
A statue of Olympic gold medallist Don Quarrie guards the entrance to the stadium.[1]
Other statues in the complex include those of Arthur Wint, Herb McKenley and Merlene Ottey.[3]
Olympic size swimming and diving pools Edit
The pools were built to host the aquatic events of the 1962 Central American and Caribbean Games[citation needed]. The main swimming pool was modified to accommodate the 1966 British Empire and Commonwealth Games which required that distances be in yards as opposed to metres[citation needed]. It currently seats 8,500[citation needed].