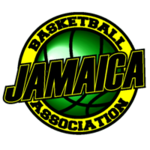 Image and ref source
Every team and squad has its nickname but many at times they are not related, traced or tie to their culture or national heritage.
The nickname JAMROCKERZ is the JAMAICA Men Basketball name. The JAM in the nickname is tied to the raggae cultural heritage of Jamaica as a country.
The Jamaica Men Basketball team is registered or rather govern by the Jamaica Basketball Association(JBA). The team joined FIBA (Federal International Basketball Association) in 1962 and zoned under the FIBA AMERICA.
They have 9 appearances in the Caribbean Basketball Association competition and have won gold on 4 tournament in year : 1981, 1996, 2006, 2009 and won Bronze in 2003. In this competition they have won champions like Argentina and Brazil. They have appeared in the Fiba America tournament only once in year 2003.
Their home kit is a all white top and knicker with yellow stripes. while their away kit is all black with green stripes.
The name of the coach is Rich Turner who got employed in 2018 and he is the current coach and one of the notable basketball player in the team is Sarmando Samuels who plays for panionions basketball team in Greece, he was born on January 9 1989 and a powerful forward.
Jamaicans are also talented in other activities rather than music alone.
---
Posted via ReggaeSteem | Reggae Culture Rewarded