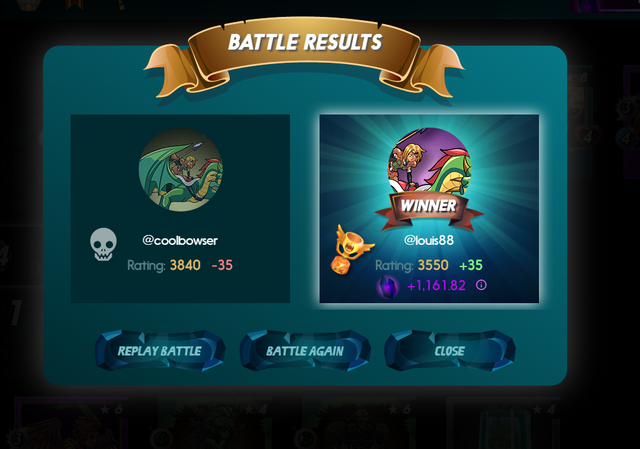 Ja, was soll ich sagen? Dafür das während des riesen Turnier die Blockchain stillgestanden ist... gab es nachdem die Blockchain wieder läuft und Splinterlands aus dem Maintenance Mode raus ist, jede menge DEC.
Aufgrund das es einen Pool an täglichen DEC (Dark Energy Crystals) gibt, war der natürlich auch prall gefüllt. Es konnte ja auch niemand spielen und sich am Pool bedienen. Um so mehr DEC gab es dann, als es wieder los geht. Ich selbst hab den direkten Start leider ein wenig versäumt aber konnte in Spitzenzeiten doch noch 1161 DEC pro Kampf ergattern. Dies sind nach aktuellem Umrechnungskurs ca. 5.800 STEEM für nur ein gewonnenes Match. Ich hab dann mal 20 Matches und ein Turnier gespielt. Das gab fette DEC.
Yeah, what should I say? For the fact that during the huge tournament the blockchain stood still... after the blockchain is running again and Splinterlands is out of maintenance mode, there was a lot of DEC.
Because there is a pool of daily DEC (Dark Energy Crystals), it was full to bursting. Nobody could play and help themselves at the pool. All the more DEC there was when it started again. Unfortunately, I missed the direct start a little bit, but at peak times I managed to get 1161 DEC per fight. According to the current exchange rate, this is about 5,800 STEEM for only one match won. I played 20 matches and one tournament. That gave fat DEC.
---
| DEC won | Match Number |
| --- | --- |
| 1161 | Match 1 |
| 962 | Match 2 |
| 690 | Match 3 |
| 732 | Match 4 |
| 552 | Match 5 |
| 493 | Match 6 |
| 528 | Match 7 |
| 526 | Match 8 |
| 378 | Match 9 |
| 414 | Match 10 |
| 389 | Match 11 |
| 432 | Match 12 |
| 412 | Match 13 |
| 315 | Match 14 |
| 308 | Match 15 |
| 235 | Match 16 |
| 239 | Match 17 |
| 226 | Match 18 |
| 900 | Tournament |
| 138 | Match 19 |
| 130 | Match 20 |
| 10160 | 20 Matches |
---
Ich hoffe mal, das die Blockchain nun stabil durch läuft und es erstmal zu keinen weiteren Komplikationen kommt. Für die Teilnehmer, die an dem großen Turnier teilgenommen haben, winkt eine Überraschung. Ich hoffe das das Turnier noch einmal wiederholt wird :)
Wir sehen uns aufm Schlachtfeld!
Louis
I hope that the blockchain now runs stable and there are no further complications. For the participants, who participated in the big tournament, a surprise beckons. I hope that the tournament will be repeated :)
See you on the battlefield!
Louis
---

Splinterlands.io Trading Card Game
Nextcolony.io Space-Browsergame

Deutschsprachige Steemians im Discord

@cleanplanet Project Eco-Citizen on Steem