I am assuming everyone who plays Splinterlands is doing their final push to get to highest possible rating before end of season to earn chest loots. This season is the first season since the new daily quest and end of seasons were modified. Originally players were earning reward cards but this season it has been split between cards, potions, dec, and orbs. More details on the new chest loots
here
.
My First Impressions of Chest Loots
On my first opening of chest rewards I was able to earn an orb. It was amazing luck! Since then I have not earned anything of significant value. Each quest rewards since I have earn 3 or fewer cards at Gold I/Diamond III rating, which is around 8-10 chests a day. I am kind of on a bad luck streak with getting any decent cards. Some days I have full set of potions and DEC but no monsters. Yikes! What is annoying is some chests contained a small amount of DEC. I am talking about 5-9 DECs. It is not even worth a reward card, but then again Untamed reward cards were just introduced this past Monday... This new chest reward system just needs to be taken getting use to. I do like the old system of earning all cards because it gives better ROI and excitement of flipping a valuable gold foil. Yet the new system is in place to slow down the card giveaway while somewhat maintaining the value of the rewards.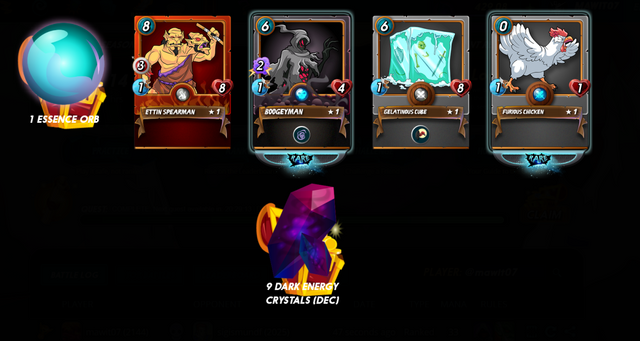 Conclusions
I have been playing this game for several months now and opening reward cards has been one of the most rewarding feelings of accomplishment and achievements. It will take time to get use to the new system since the chances of opening reward cards are less. This has definitely lower the ROI with the new system, but long term this allows the game to be sustainable.
With lower ROI I have noticed the marketplace for resell of cards have been slightly dropping. This may likely be because some players are selling out of the game since the new reward system was released. As the current state of Steem maybe in flux with Ned selling Steemit to Justin Sun, that may also have lead players to sell out of Splinterlands. This is a pushing card prices lower and for players who still sticking around it maybe an opportunistic time to start buying more.
Originally when I started the game I was leaning toward buying Beta, but since I had a couple of Epic Alphas I have leaned more toward Alpha purchases and only sparingly any Beta. I am thinking long term and believe prices for the cards will eventually rise again.
All this is just my opinion as I play this game daily and discord so am bias as to what I think players should be doing. I am sticking to Splinterlands as long as this continues to run even if Steemit is gone. I have faith in @aggroed will guild the ship through these uncertain times.
If You have yet to take part in playing this great game called Splinterlands please click on my referral link. It is free but in order to earn real assets such as cards and token you would have to invest in a starter deck or purchase game cards. Join the discord to learn more. Good luck!

THANKS FOR READING! CONTINUE TO SPLINTERLANDS ON!