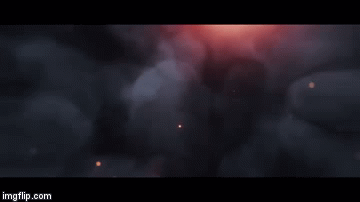 Splinterlands.io goes physical: stickers, shirts, book, printed decks, and the new edition - UNTAMED!
Splinters (Originally Named Steemmonsters) is a digital card game created on the Steem Blockchain. The game has become very popular and profitable for many of its users. The game first introduced Alpha cards with its 300,000 Booster Pack Supply (booster packs contain 5 cards each and have a face value of $2USD).
Those 300,000 packs quickly sold via their official website and first KickStarter. Afterwards Beta Boosters were introduced with a supply of 900,000. Just like their Aplha counterparts these had a face value of $2 each and sold out relatively quickly.
Fast forward to today (10/30/2019) and the Splinterlands team has introduced a new Edtion of cards called UNTAMED. This is a whole new set of cards (unlike Aplha->Beta which had all the Alpha cards reprinted + new ones introduced). The UNTAMED boosters can't officially be opened yet but you can get your hands on some pre-sale packs. There's multiple ways to do this in which we will go over below.
Untamed Booster Packs can be purchased on the Splinterlands (Steemmonsters) official site. Its important to note that you can't open the packs yet. As with previous Editions the UNTAMED booster packs are tokenized which means you are able to trade/sell them on the Steem-Engine exchange. Basically the booster packs themselves are a form of crypto just like each individual card inside the booster pack are also a form of crypto that can be sold or traded. Currently buying from the official Splinterlands site (or Steem-Engine) is the only way to currently own a tokenized UNTAMED booster.

You can also pre-buy UNTAMED booster packs via participating in the Splinterlands Kickstarter. The Kickstarter campaign heavily advertises the newly introduced physical items. You can get your hands on allot of cool items such as Stickers, Shirts, A Book and Printed decks via participating in this kickstarter. If you're interested in any of those cool items you will have to hurry and make your pledge as Thursday, November 7 2019 10:11 PM AST is the end date.

Kickstarter only allows payments via that nasty currency called Fiat and since Steemmonsters is a digital Blockchain game its players wanted a way to pay in crypto and the founders gave us just that. No fiat / no problem as you pay with crypto in the Fundition campaign. The Fundition campaign doesn't offer any of the physical items the Kickstarter campaign does but you can buy some pre-paid UNTAMED boosters.
An important tidbit of information to know before making your decision of buying pre-paid on Fundition/Kickstater or buying direct from the official webpage is that there will be 14 airdrops.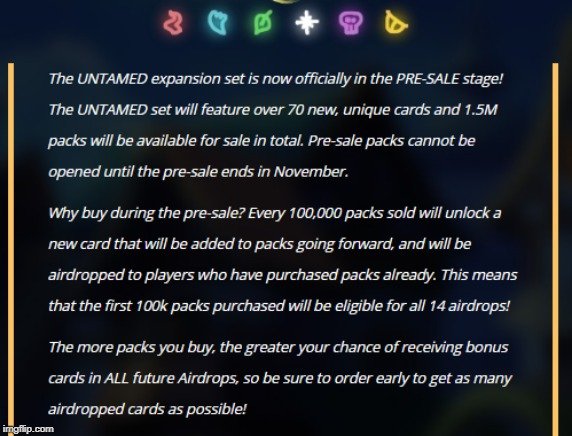 As noted above in the screen shot, in order to participate in all 14 airdrops you need to be an early purchaser of packs. This means if you decide to purchase packs from the official Splinterlands webpage after 100,000 have sold (Hint: we are well past that mark) you won't be eligible for the first airdrop. The exception to this rule is participating in the Kickstarter/Fundition campaigns. Doing so will guarantee you access to all Airdrops regardless of how many pre-paid boosters sell.
The First KickStarter
Lets take a walk down memory lane and look at the first Splinterlands kickstarter and how it benefited those who participated.
At the time this kickstarter took place the Splinterlands game was called Steemmonsters and the kickstarter itself managed to get 274 backers who pledged $88,171.
The first kickstarter offered Alpha Boosters and exclusive cards that would only be available via the kickstarter itself. Just like the current kickstarter, multiple levels of entry were possible (the higher the pledge, the greater the rewards). Lets take a look at some of those packages and the current value of each in today's market.
Package
Kickstarter Price
Today's Value
Monster Gladiator Package: Starter pack, 25 beta packs, Dragon Whelping Runt Standard and Gold foil, Nen-Seni Standard, Royal Dragon Standard, and Shin-Lo Standard
$25
$96
Monster Recruit Package: Starter pack, 25 beta packs, Dragon Whelping Runt Standard and Gold foil, Nen-Seni Standard, Royal Dragon Standard, and Shin-Lo Standard
$50
$176
Monster Trainer Early Bird Package: Starter Pack, 110 Alpha Edition Packs, and the following cards in gold and standard foil- Dragon Whelping, Neb Seni, Royal Dragon Archer
$200
$991
Monster Master Early Bird // $800 Monster Master Packages: Starter Pack, 110 alpha packs, standard & gold foil versions of all 4 promo cards
$600-$800
$1672
As you can see some of the past Kickstarter participants had their pledge value returned to them FIVE times over. While that in itself is not a guarantee the same will happen again it certainly is something to take into account when deciding on if we want to participate in the current kickstarter or not and at what level.
---
Disclaimer
: **The above Today's prices are a reflection of the cards value on the date of 8/21/19. That's the date the Kickstarter campaign uses when displaying ROI from the first kickstarter so I did the same for consistency. This is an opinion piece and is not financial advise.**
---
Play Splinterlands Today:
https://steemmonsters.com?ref=rentmoney


Participate in Fundition:
https://fundition.io/#!/@sm-fundition/yl3a19vec


Participate in KickStarter:
https://www.kickstarter.com/projects/526764488/splinterlands-untamed-a-blockchain-trading-card-game


View The First KickStarter Campaign:
https://www.kickstarter.com/projects/526764488/steem-monsters-a-digital-role-playing-trading-card