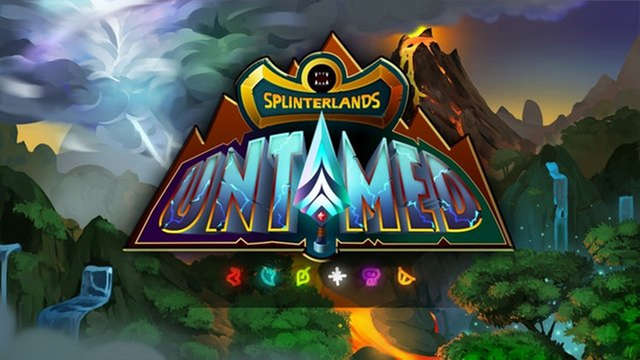 Hello, I am going to be doing a follow up to this Review Last time I went over the Undead Melee so this time we look at the new summoner and the ranged and magic monsters that came out in this set. Tell me which one you like best. Or give me some feedback. I will pick one random person that does this to win 500 DEC.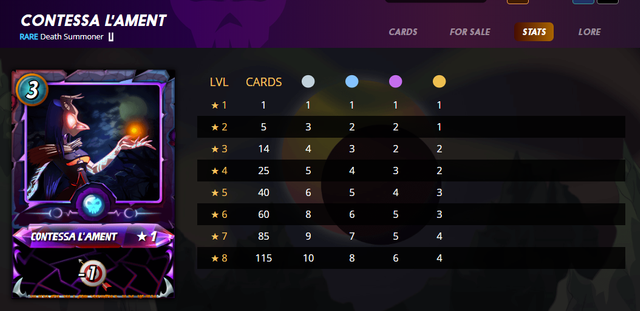 Contessa L'ament is the new summoner for the death team. I like this card a lot for the team and that means I might have to spend a lot more money on my death team. Ranged damage is a problem for them sometimes. This summon takes away ranged that I feel like that is useful in a lot of games. It can also combo with the new card with headwinds. So the Death team could go into matches with minus 2 to the ranged attackers. With tanks with the shield ability, you can have some attackers that do no damage to your tank. This creates some great matchups. For sure if you love the death team you will want this summoner as an option too.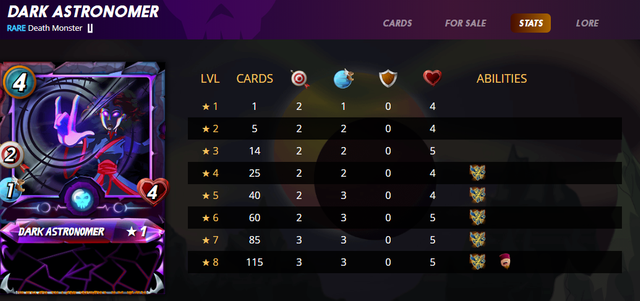 Dark Astronomer is a sold ranged attacker. With shatter, he can help with armor that gives death a hard time in some matchups. Blind is a new ability. I need to use it in battle but it seems like it could be very strong. The only weakness of this card is it is a little slow. That might make it a nice addition to a reverse speed game. You want your shatter monster to attack early to get rid of the armor before your other monsters attack. You only need him level 4 to have 2 attack and shatter. He will still be 2 speed so good for reverse. After that, he gets to 3 speed and is just a middle of the road speed guy. If blind works well this card will get a lot of play at high levels. If blind isn't that good then the card isn't that special.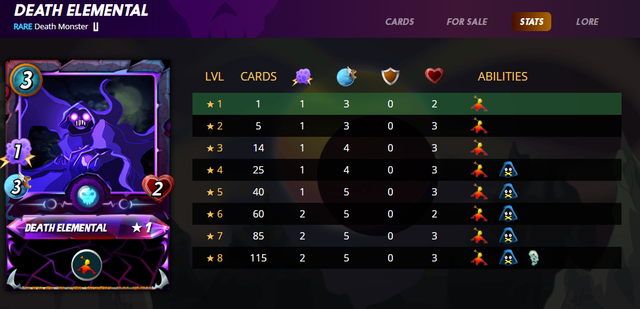 Death Elemental is a good card. Magic snipers are always nice cards. He is low-cost adding another card that is making death a very strong low mana team. Silence and Weaken are also cool add on skills to have. He will combo with any tank with Void to make it really hard for magic attackers to kill them. It will combo with Twister Jester to snipe the back row. It is also a fast attacker at high levels. The card is a good attacker starting at level 6 but the extra hp at 7 will let him survive another magic reflect. I think you will see this card a lot of the battlefield.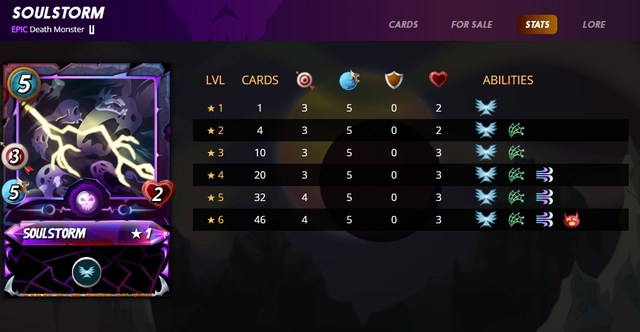 Soulstorm is a new epic level card. He is really strong and the monster with headwinds to combo with the new summoner. Flying, snare, and stun makes him a great control monsters. He hits hard right away and then gets all the cool skills as he levels. Four ranged damage is very night if you level the card. This card will get used a lot for sure. It stacks right up there with any of the epic cards from the old set. This card will help a lot to bring down those flyers with high speed that can be an issue to hit. The lower hp isn't that big of a deal as you can hide him in the back. Sneak monsters could be a problem but he flys to counter that a little.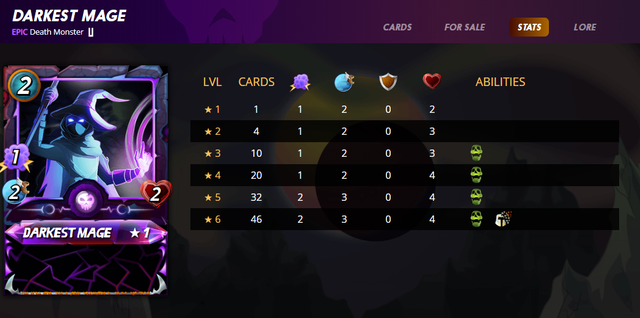 Darkest Mage is the other new epic for the team. He is a nice low-cost mage to add another great card to use in low mana fights. Affliction and Rust make him a nice card to counter both armor and healers. At the max level, this card is great for the cost. Two mana for two magic attack with four hp and good abilities. They Death team is going to be able to put out a lot of strong low-cost cards in those 12 and 13 mana matches. If you always want to win these cards are going to be a must-have.

To me the best new one in this group is Soulstorm. That is a playable card in almost any format. I would love to see what you think. Did I pick the right card or do you like one of the others?
I am a member of the CCC group also. I am always trying to support others here with my giveaways. This is a Contest Kings giveaway No Upvote, No Follow, and No Resteem are needed to join
This is an Invitation to join #ccc for Guaranteed 👍 Daily Income 💵 and Payout 💸 for Newbies (2.0) 🐟 🐜 🐛 in #ccc 👣 and Follow 👣 the Honor Code 🏅 - the Creed (Conditions and Limits Inside) AND the latest update <<< please click to read.
I am now going to recap a past giveaway so you don't need to look one unless you want to see who won the giveaway from this post.
Winner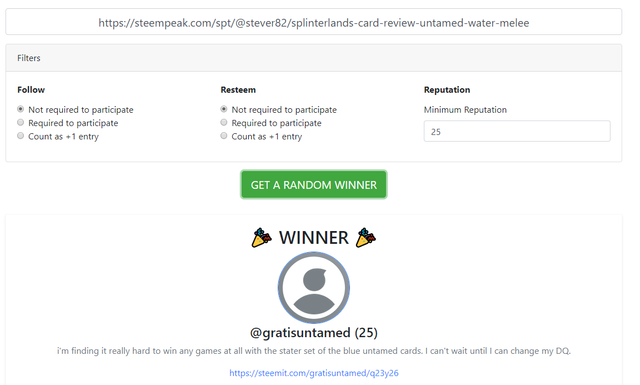 Congrats to @gratisuntamed I hope you stick with the game and this helps a little. You can get a new quest each day. So don't worry when you can't do one.