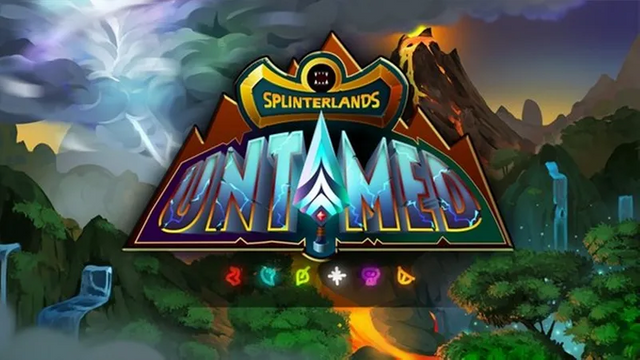 I am starting something I should have done before. I will review the team in 3 posts. One for the commons, then rare, and combine the epic and new legendary on the last one. Time to look at the earth team. They are one of my favorite teams. I think they are strong but when you can't heal it hurts them a lot. These new cards don't change that but do add some fun new options for them. Let me know what you think of the review or game. I will pick one random person that does this to win 500 DEC.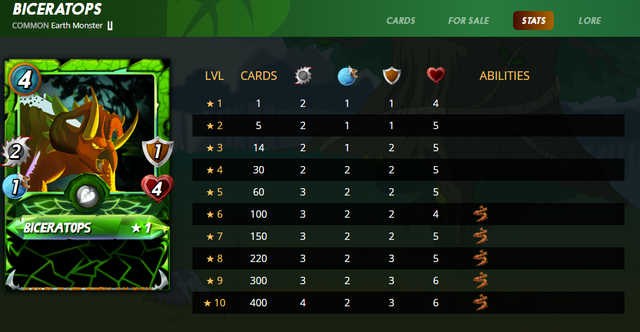 Biceratops is considered a weak card right now. I know this because people sell me the card for 2 cents often. Yet he is a useful card for the team. In little league game, he is a nice first position tank. With good life, thorns, and armor. He also has a good attack for his cost. Yet he will never take the first position for the other tanks on the team as they are too strong. That is why he is undervalued. Other formats he is good are super sneak and melee mayhem. Thing is those modes are ones most might no go with Earth. This isn't a card I will buy but if people keep dumping him to me look out for when I beat you with him.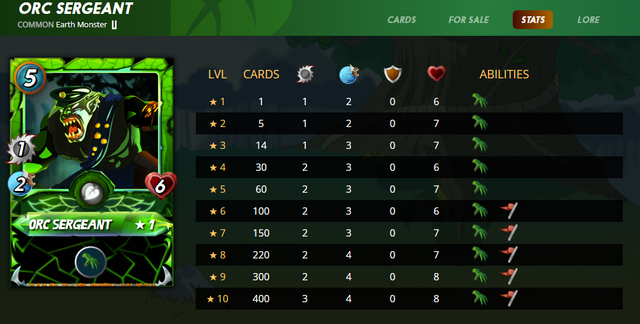 Orc Sergeant is a bit of a replacement for the Minotaur Warrior. That will be helpful for new players to have a monsters with reach on the team. Having inspire adds a nice combo to the team with Brownie for double inspire. This could lead to some hard-hitting Earth melee teams for super sneak and melee mayhem. His 5 cost makes him a bit harder to use. But when you can fit him into a match he will be a lot of help. You will have to get him to level 6 before he will be worth using a lot. After that, the next goal would be level 8 to get top speed. One drawback is he doesn't get his last attack point till max level. So unless you are a max level player you can't have him with 3 base attack. My guess is he won't be considered that good but will be powerful in some games for those that have him.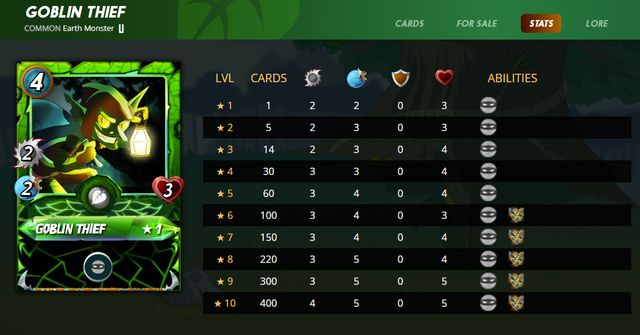 Goblin Thief is the first melee sneak monster for the team. Shatter is a nice combo as armor is used a lot in the game. At higher levels, he gets a lot of attack for his cost and being a sneak monster. I am not sure how much use he will get. He doesn't combo as well with Goblin Sorcerer. As one will be doing magic and one melee. Still sneak is cool so he will get some play. He gets 3 attack really fast so you can use him at lower levels. Overall he is a good card.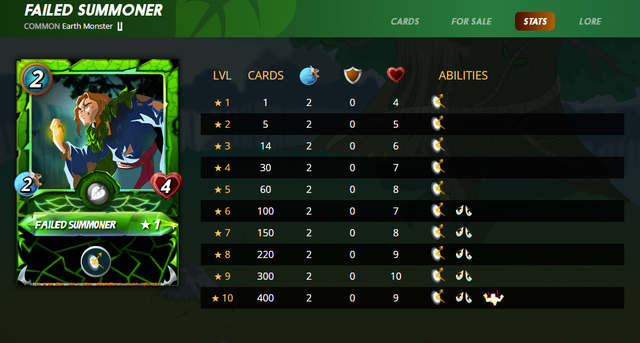 Failed Summoner is a funny card. Yet it will get used a lot. 2 cost with up to 10 life. This guy is going to be the tank in a lot of 12 mana games. He will also be used in Back to Basics a lot either as the first or second position to take a lot of hits to kill. He is also able to be used when you know a lot of magic monsters will be used. A lot of games you won't use this card but when you can it will be a powerful tool. It is funny but I like this card a lot.

That is it for common cards. I will be back soon to go over the rare cards. These ones are all good cards for the team. If you are new they stack up well with the older commons. I can't wait to see what others think. None of these really stand out to be used with the old cards expect failed summoner.
I am a member of the CCC group also. I am always trying to support others here with my giveaways. This is a Contest Kings giveaway No Upvote, No Follow, and No Resteem are needed to join
This is an Invitation to join #ccc for Guaranteed 👍 Daily Income 💵 and Payout 💸 for Newbies (2.0) 🐟 🐜 🐛 in #ccc 👣 and Follow 👣 the Honor Code 🏅 - the Creed (Conditions and Limits Inside) AND the latest update <<< please click to read.