I have been a fan of Splinerlands since the beginning. For me, Splinterlands brings together two parts of my life that I greatly enjoy. Since I was a kid, I have enjoyed gaming. I did not (and do not) have all of the latest and greatest consoles), but gaming (whether in front of the TV screen or computer screen) has brought me a lot of enjoyment and entertainment. It has been a way to relax at the end of a long day.
As I have grown up, I have had to make grown-up decisions. After I married my wife and with the addition of all of our wonderful kiddos, gaming has become a lesser part of my life, because there are other things that I need to invest in. With limited time, money, and energy, something had to give. As I have grown older, the strategic and analytical parts of my brain have turned to thinking about investment opportunities. I am not a professional trader, but I am a husband and father who wants to make good decisions so that my family can be supported and provided for.
The 12 Cent Chicken
Splinterlands
recently released the Furious Chicken card, and at first I was not sure how a 12 cent card would do me much good. It seemed like a lot of people felt the same way at the time, but as I have battled, I see more and more people utilizing the
Chicken.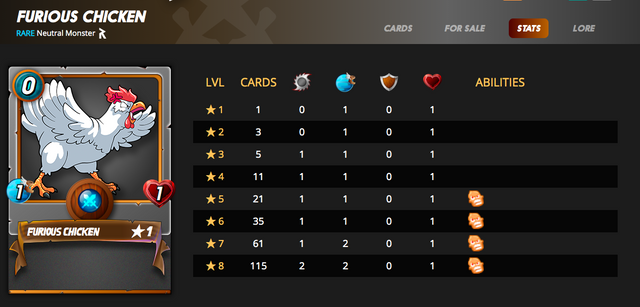 If you look at the Furious Chicken's stats, you might feel underwhelmed.
Melee Attack is not available until Level 3, and the most Melee you will ever see is two, but that is not until you reach Level 8.
The Furious Chicken only has one heart and no shield (unless it receives an upgrade from another card).
The Enrage ability is available at level five. I am still trying to figure out the benefit of Enrage given the fact that the Chicken is so easy to kill.
Kind seems like a useless card, right?
Even Small Investments Make A Differnce
I have grown to appreciate the Furious Chicken, and when I forget to play this card I often regret it. The Furious Chicken does not cost a Splinterlands player any Manna. So if you have an open slot, then you should play the Chicken. If you have an open slot and you have a Furious Chicken and you forget to play it, then .... just don't do that! Not Good!
I believe that the Furious Chicken with just 1 BCX (12 cents) can provide value by protecting the rest of my investment.
First Position - In situations where your opponent will deliver a quick blow to your tank position, the Chicken can be sacrificed to protect your first tank.
First Non-Melee Monster - In situations where your opponent plans to Snipe, the Chicken can be sacrificed to protect a needed Range or Magic monster.
Last Position - In situations where your opponent plans to Sneak, the Chicken can be sacrificed to protect the last monster in your lineup.
This 12 cent investment provides more value than meets the eye. Something I once deemed insignificant because of the perceived "small value", become a crucial part of my game as I learned more.
So What Does This Have to do with Investing?
The following are some of the lessons I am learning.
I am reminded that small investments can make a difference, and even more importantly a series of small investments can make a life-changing difference.
I am reminded that I need to invest what I can, not what someone else can.
I am reminded that different investments provided different returns because each operates and functions differently.
I am reminded that investigate and learns so that I know how to properly invest and gain the best return.
I am just an original Joe who likes Splinterlands and Steem, and I feel blessed that life provides lessons in funny places. Thanks, Furious Chicken! See you on the battlefield.