The first of February has been and gone - a few numbers on the STEEM vested this time around.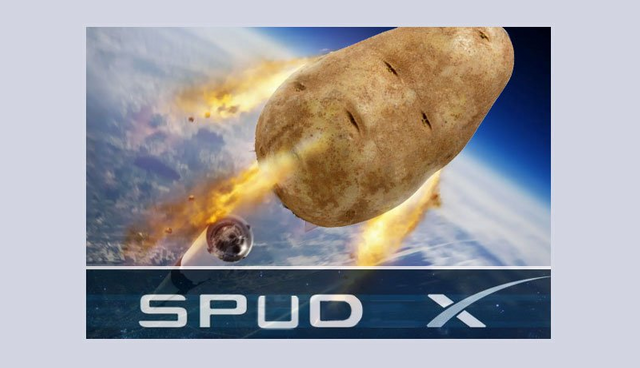 source
@streetstyle
---
Yesterday, there were a total of 832 transactions of type 'transfer_to_vesting' totaling 58685.8400 STEEM.
433 accounts called the command and 601 accounts vested STEEM. This number is different because it is possible to vest STEEM from an account to a different account.
@tipu vested STEEM to 102 different accounts and @curie vested 8 STEEM to 75 different accounts.
Five accounts vested over 2000 STEEM - znnuksfe, gamefiles, lorenzopistolesi, cryptosharon, and jeenger.
The largest account power up was znnuksfe with 10730.9910 which was split over a couple of transactions.
---
Below is a chart showing the when yesterday STEEM was vested.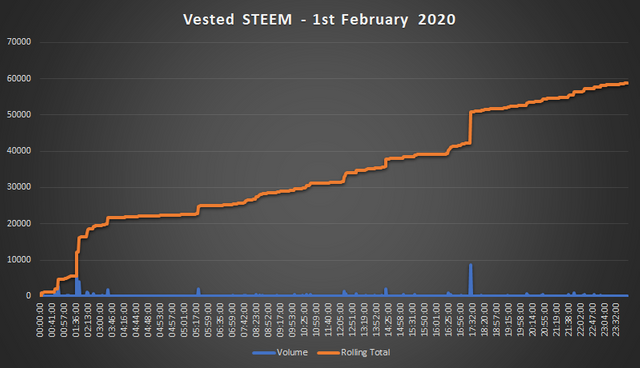 gamefiles powered up the largest amount of STEEM in one hit - 8592.758 at 17:20 UTC.
---
Looking at previous #spud days, yesterday continued a trend of fewer STEEM being powered up on the first of the month.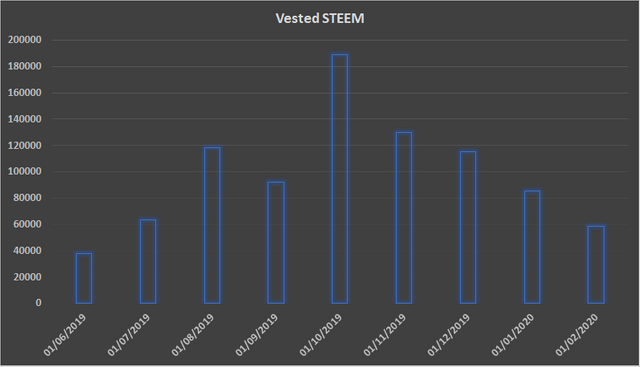 I read a post this morning stating that Steemmonster card transactions were also down from last month and I'm wondering if people a now looking to hold some liquid STEEM in case there is a move over the next couple of months?
---
My power up yesterday was for 500 STEEM and I used it to up my delegation to @curangel.



The act is not completely selfless as @curangel do distribute any curation rewards out to their delegators, but I like that they visit content that I miss and use their downvotes. I also trail this side of their curation and as you may have noticed, have been in receipt of some downvotes myself of late. This is fine, but I apologise if you are downvoted for commenting on my posts.
---
Another month or two and I'll be at 50k

Feel free to lift off any time soon, STEEM :)
Cheers!
Posted via Steemleo