Hi All,
Many of you may have heard about Crypto.com and seen their shiny Crypto Debit Cards thanks to @stackin (who roped me into this), and I've been excited to get one, until I realised that they were unavailable. I tweeted at them last week, and this week they come back with an update which is awesome.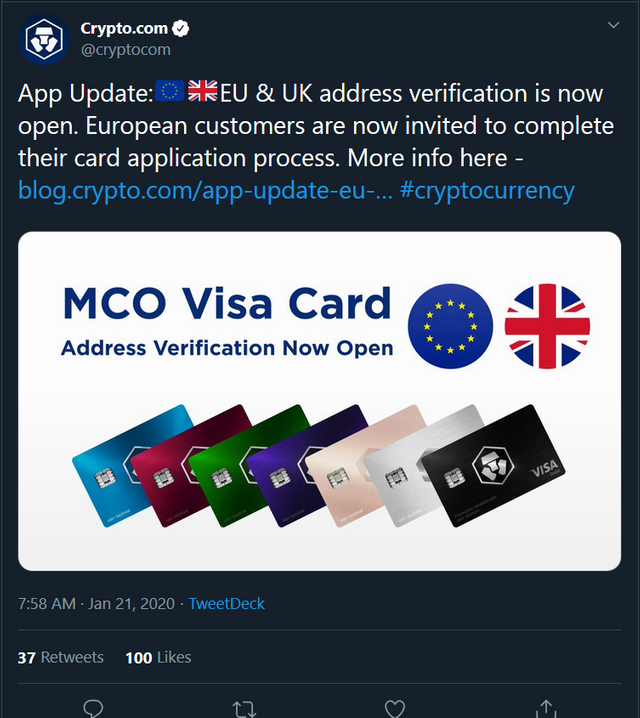 ---
This is NOT financial advice. Cryptos are volatile, invest at your own risk.
---
Of course, like most places, Crypto.com does require KYC, but they offer some pretty sweet products in return:
Wallet (of course)
Exchange
Fiat Deposits with card
Invest, which spreads your money across a wide range of cryptos and stablecoins automatically.
Crypto Earn, which allows you to Stake your cryptos for up to 18% P.A. (In the same currency as you stake)
Crypto Credit, allowing you to take a loan, using your crypto as collateral.
Market overviews
---
50MCO Card Benefits:
2% Cashback
Free* Spotify Subscription
All Card tiers: (0 MCO - 50k MCO): https://crypto.com/en/cards.html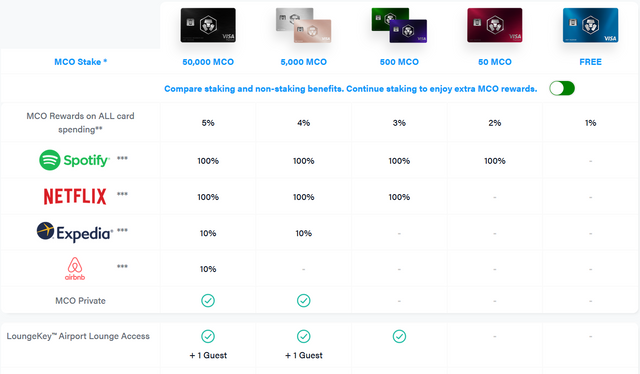 ---
Free Money?
Of course, it's not "free", but the deal is, if you Stake 50 MCO to get the Ruby Steel card (~£193.5)(~$251.50)(~€227), you'll get $50 in bonus MCO, and your stake is still yours, just you have to wait the Unstaking time to get it back (~180 days), which seems like a pretty cool offer to me.
I've already taken someone up on the offer, but if you decide to use my link & code and complete the process, I'll send you a bonus 10 STEEM, Just leave a comment below with your account, I may ask for more info in the event of multiple people claiming to have done it. This offer is run at my Discretion and in the event of a disagreement, my say is final. You'll get your $50 free so long as you complete the card staking process (you don't even have to order the card if you don't want to, but you'll have $50 to spend for free with it 😁)
If you do want to take me up on the offer, just sign up for the Crypto.com app with the code 66hg5gugkt, or on this link https://platinum.crypto.com/r/66hg5gugkt and follow the steps in app (Android/Apple only) to claim your MCO. You'll see it as soon as you log in, but it'll be locked, so you'll have to stake 50 MCO to earn the $50.
Have a great day,
~ @cadawg