I was happy to have a pretty full conversation with one of the top witnesses @themarkymark under a post by @acidyo talking about how flaggers are targeting the comments in @acidyo's community.
I used this opportunity to test the waters on my 'Lower from 30% to 10%' bid.

How do you think it went? Well first of all, it appears I did not have all my information right!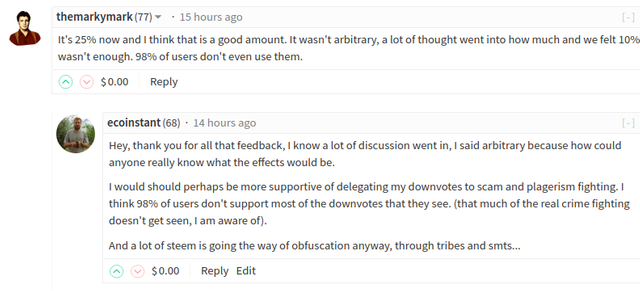 So its 25% apparently. But I still believe if was arbitrary - although not for lack of dicussion or words written about it.
Here is the crux of Marky's point, and I see it too, more clearly after talking to him. The fighters need 25% because most people do not use their flags to fight evil.

I think there is real disagreement about what flags should be used for. I personally have only been convinced successfully for SCAM and PLAGERISM.
Once upon a time I used a flag against low value content (a single youtube link without commentary) and tried to use the flag to teach. When I watched this guy turn into a free speech warrior, and acuse me of being a bitter troll for abusing his right to share youtube links, that really started making me think about the flag narrative. I didn't teach that guy anything except that (at that time) steemit was uncomfortable because people flag.
Thus if I personally weigh the value added by each flag, many of them would be NEGATIVE overall consequences. (I admit that the important work in SCAM and PLAGERIM is less visible).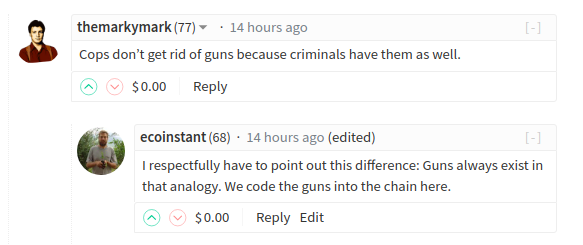 Just a slight mistep by Marky, but here is a good point to point out how respected I feel when people actually listen and respond coherently to the arguments, which Marky is doing here.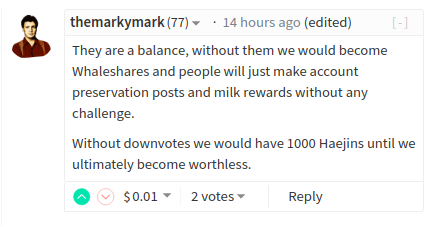 Milk and Abuse! I went over to haejin's blog wondering what had happened to it. Its dead. So I wondered what he would do with his more than a million SP on ranchorelaxo - I honestly had to know so I looked it up on steemreports.com.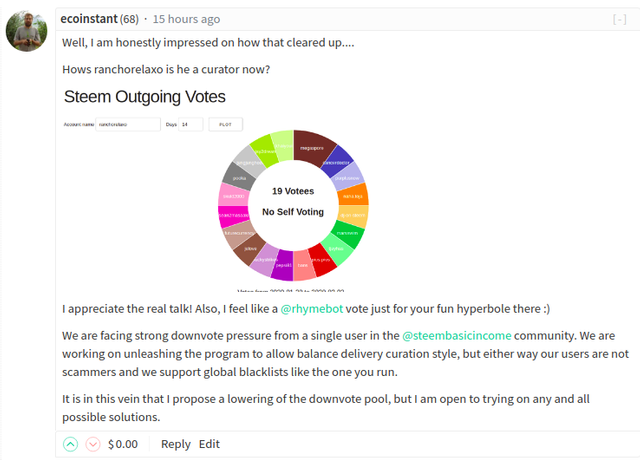 Handing out rhymebot vote for hyperbole...its a stretch but I really wanted to be friendly, and I don't know about you guys but I get the feeling sometimes when I try to type friendlyly in serious discussions that people think I'm a dick. So I am working on that XD
I took the opportunity to lay out what I'm all about. My biggest concern is the real impact a single flagger with his 13 or however many accounts is having on the @steembasicincome community, one that I care about and participate in.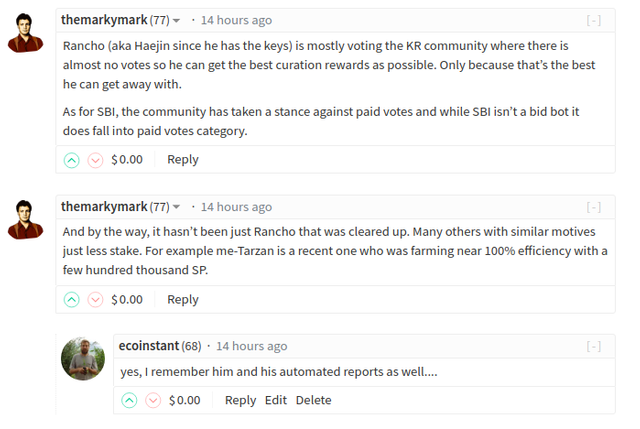 He shot me straight - SBI is not seen as a USER CURATION PROJECT based in synergy and mutual growth.
---
Thank you @themarkymark for taking the time to speak with me, and leaving me more aware than when I began.