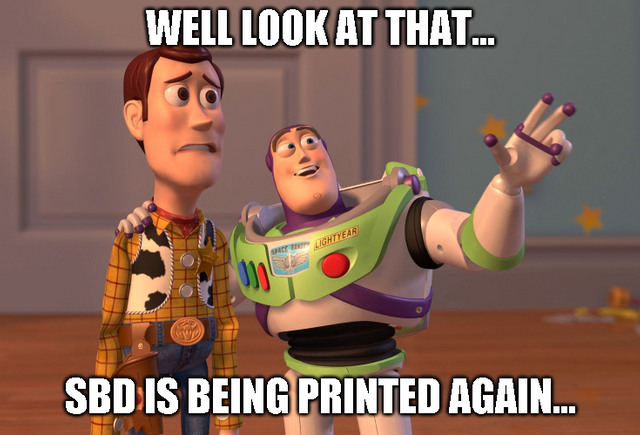 ---
It's been a long while since we last saw SBD being printed for author rewards. Note that SBD's haven't stopped being issued, it simply served another purpose and that was / is to fund the proposals submitted on the SPS.
But since earlier today...

---
I know many of you might be wondering why is this happening now, or even feel that it is a super complicated topic for you to understand. It isn't, so let's break it down a little.
Essentially there are 2 tokens in which author rewards are being payed. The first one is our beloved STEEM. Now you may have forgotten it but SBD has always been part of the equation. As a matter of fact 50% of the author rewards are being payed in SBD as long as the Debt Ratio is lesser than 9%.
Debt ratio is the number we get if we divide the marketcap of SBD to the marketcap of STEEM. Got it? Sweet.
---
When this number is bigger than 10%...well, you know pretty well what's happening, since this is how you've been receiving your author rewards for many months in a row...and this is entirely in STEEM. 50% of it in the form of SP and 50% in liquid form.
But there is also a middle state and this is where we are right now.
The state where the ratio is cruising between 9% - 9.99%
In this case there are 3 forms of payment for author rewards and that is Steem Power, Liquid STEEM and a portion of SBD.
In other words the moment that Debt Ratio will be 8.99% or lesser, we'll be back at the good ol days...
PS. The Steem blockchain is executing perfectly fine what was designed to do from its inception...without us interfering and burning stuff here and there...
Have a good one peeps.
Full Steem ahead.
Cheers.