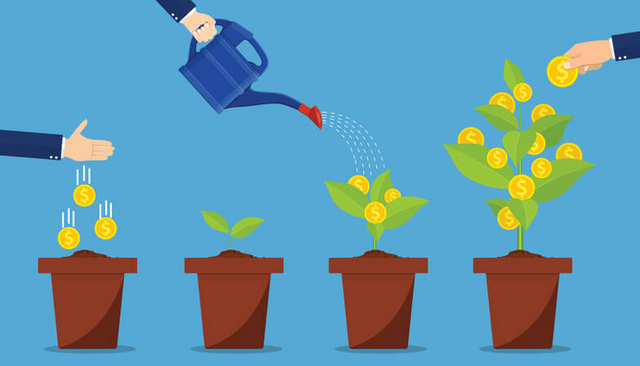 Source
As the Steem platform grows, we are seeing an interesting twist that is aligning with the entire cryptocurrency industry.
There was an article written by Brian Anderson, CEO of Coinbase. In it, he made 11 predictions for 2020 with regard to cryptocurrency. Certainly, anyone who follows this industry can see where all of them hit upon trends that could become reality.
However, there was one that I wanted to highlight.
The billionaire flippening
As a bonus final item, my friends Olaf Carlson-Wee and Balaji Srinivasan estimate that at a price of $200,000 per Bitcoin, more than half the world's billionaires will be from cryptocurrency. Whether you think this is a good thing or a bad thing, it would mean that more pro technology people will have access to large amounts of capital in the 2020s. Presumably, this will increase the amount of investment made in science and technology, and I think we'll also see more crypto folks turn to philanthropy (we've seen this already with efforts like the Pineapple fund, GiveCrypto.org, and the GivingPledge).
https://blog.coinbase.com/what-will-happen-to-cryptocurrency-in-the-2020s-d93746744a8f
I feel this is something we must stress. Obviously, the focus on this projection is based around Bitcoin. When it comes to Bitcoin forecasts, $200,000 is not the most outrageous we heard. If that takes place, according to Anderson, then half the world's billionaires will be from crypto.
This is great for those with 5,000 Bitcoin. However, I am going to surmise most reading this are not sitting on top of that stake.
Also, billionaire status is not in the cards for everyone. That said, millionaire status is entirely possible, especially as we look towards projects that are going to have some impact in the future.
Steem is one such project. It is growing in a way that is pushing people towards this end.
Again, from Armstrong's projection:
Whether you think this is a good thing or a bad thing, it would mean that more pro technology people will have access to large amounts of capital in the 2020s.
In my mind, this sums up many that I encounter on Steem.
Ultimately, Steem is giving everyone the opportunity to become a Venture Capitalist. We all have the opportunity to fund different projects on a daily basis. Like the traditional V.C. world, we have to decide which ones we dedicate our financial resources towards.
There is one difference though. We can enhance those projects by putting out time and efforts behind it. Thus, we not only have the ability to support it financially but, also, as a users/innovators.
We see many articles discussing the wealth inequality around the world. In the developed countries, this appears to be a condition that is worsening. The massive shift in income distribution over the last few decades along with the fact that stock ownership is disproportionate among the wealthy, shows why this is the case. Many do not have the resources to invest even when the opportunity presents itself.
Steem could be the answer for millions of people.
@dtrade put together an excellent article about Armstrong's forecasts and how Steem is already ahead of the curve. If you are not following this account, I suggest you do. He puts together some of the most insightful articles on Steem and how it relates with the rest of the crypto world.
What makes Steem so powerful in this area?
Simply put, Steem gives people tokens. Each day, people are receiving dozens of different tokens in their wallets. This is the golden nugget that can provide a foundation for growth. Anyone can come onto the blockchain and start getting rewarded. While it might be difficult to get STEEM, there are dozens of Tribes that are paying out each day. Many of them smaller numbers of people posting, hence, it is easier to stand out.
The advantage to this approach is all tokens earned from tribes can be turned into STEEM. Having Steem-Engine means there is a market for every token. While liquidity on many is low, there is the possibility to sell for something.
Of course, many of us believe this will only expand when SMTs are released. This protocol will see many other entities starting to tokenize their websites, thus providing another chance to expand one's holding.
All of this feeds into the idea of creating wealth via Venture Capitalism. Each time we decide to swap one token for another, we are casting our view. Hence, if I take Token A that is received and end up with LEO staked, as an example, I am showing my support for that project.
There are many projects that people are involved in that are humming behind the scenes. I would say that almost all of them are seeking people to assist in moving them forward. Those projects that do achieve a greater degree of success should see token appreciation. To me, a lot of this comes from a clear vision that is rolled out in an effort to provide a decentralized offering that people will utilize.
This is not something you see in the Bitcoin world, for the most part. There, one is obligated to buy Bitcoin and then, when it appreciates, sell it and invest the money in another project (or send the BTC direct). Either way, one needs to buy in.
While one can do that with Steem, the fact that we are dealing with a crypto-to-crypto basis eliminates a lot of that. People are rewarded in crypto which then can be used to get one staked in something else. This is going to be a premise, I believe, spreads throughout the global economy. By the middle of this decade, I think we will see a large percentage of funding taking place via cryptocurrency.
While I would say this process is not going to turn the majority of us into billionaires, I do believe it will change the financial lives of most involved. How many projects does it really take to be involved in that attain success before one profits handsomely? With hundreds to choose from, and more coming, one only needs maybe 5 or 10 to truly recognize some much bigger numbers.
This is what Venture Capitalists do. Steemians have a similar opportunity by staking their tokens in the projects they believe in. Those that are successful will reward the individuals for that belief. There will be projects that increase 200x over the next few years. Thus, a stake that is now worth $500 might end up being a great deal of money down the road.
Rinse and repeat.
Cryptocurrency has the opportunity to generate enormous amounts of wealth over the next decade. Armstrong asserted this in his article. I believe Steem is a place where people without much can come and start building a basis in which he or she can partake. As we see this model spread throughout the entire crypto industry, Alt-Coin projects that have a legitimate future will garner attention. The interconnection of this through exchanges will also allow for wider access.
The great part about all of this is Wall Street is not even involved. All the trillions of institutional money is still on the sidelines due to the volatility of cryptocurrency. It is going to be a while before fund managers are even able to enter this realm.
For that reason, individuals who are consistent about growing things at this time will end up profiting greatly. Big money will show up at some point. Thus, having a stake in projects that are attractive down the road will be of major benefit.
Welcome to the world of Venture Capital. Where out-sized returns are sough before the masses clue in.
The only difference is, this time, it is us instead of big money insiders.
---
If you found this article informative, please give an upvote and resteem.
---
Posted via Steemleo | A Decentralized Community for Investors