@pennsif put together the STEEM2020 contest, and then went out and got some super duper sponsors like theycallmedan and threespeak and splinterlands!! A big fat prize pool awaits these participants who were brave enough to step forward and opine in public.
So far I have reviewed 7 of the 38 entries, and have sent out 1 INCOME token to each of the ones I have reviewed. As reported in the final participant post, I am an official sponsor along with these big names!

I'm right there next to these giants!
---
The list is alphabetical....so far I am mostly alphabetical as well, except I cannot listen to videos in all situations, so I sometimes have to put those entries off until an appropriate time.
Here is my progress up to this point: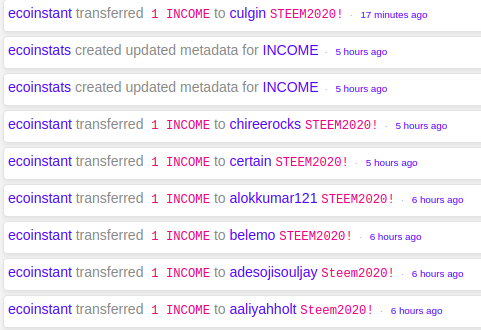 So far, my favorite entry is the one from @culgin. He makes heavy use of acronyms. I am leaving a comment on every post with some of my thoughts, the suggestions that I agree with (if any....) and the message that I am sending an INCOME token in return for their participation.
What I am not telling them is what INCOME token is. While I did update the metadata, and link to my recent post about Why you should hold INCOME token within the STEEM-ENGINE site, from without it can still be hard to know what it is about. Any thoughts?
---
I am very happy to say I have found at least one thing to agree with on every participant so far! Get in there are check out some of the entries and thoughts, I will continue to highlight my favorites as I go through.