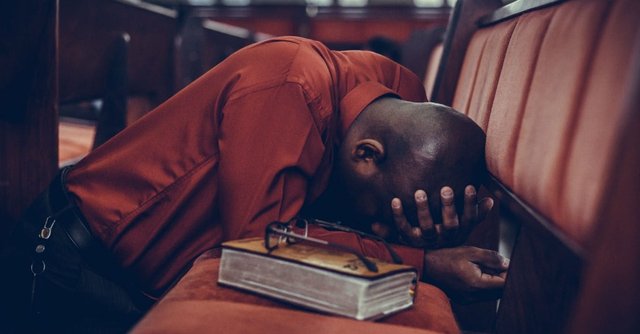 DO YOU NEED SOMEONE TO TALK TO? TALK TO JESUS CHRIST ALONE.
If you feel you really need someone to tell, let the Lord be your primary focus. Many are so eager to run to the arms of men and they are never able to get the succor their hearts long for. Suffice you to know that none can bear the burden of your heart as much as the god who sits upon the throne of your heart.
Scriptures affirm that we have not a high priest who cannot be touched by the feelings of our infirmities; but was in all points tempted like we are, yet without sin. He knows what you are going through, He is there to take the heat off you and exchange it with the peace that passeth all understanding.
In the words of the song writer – "Have we trials and temptations, cumbered with a load of care? Precious Savior still our refuge, take it to the Lord in prayer". Tell it to the Lord, don't shy away from Him. Put your hands in the hands of the Master, He's waiting there and He's got the answer. Many in a bid to find answers have been ridiculed by men and have become objects of pity.
The Bible warns that vain is the help of a man. In your quest for solution, let God be your primary focus and let Him choose for you the men He has ordained for your situation. While it is true that God's choice of men may not always appeal to your style and taste, you will however be amazed by the results that follow.
Don't assume or pretend that you know what to do. Hands off completely and let Him sort it out for you. Jehoshaphat king of Judah in 2 Kings 28 was very sincere in his quest for help over an alliance of several nations that rose up against Judah. He came up denouncing knowledge of what to do, as he owned up to the God of all creation, who makes a way where there is no way. He felt he needed to tell someone and he went to the Lord and he got through victoriously.
Do you have the same feeling? Go to the Lord and you will get through with Him.
Are you weary, are you heavyhearted?
Tell it to Jesus,
Tell it to Jesus;
Are you grieving over joys departed?
Tell it to Jesus alone.
Tell it to Jesus, tell it to Jesus,
He is a friend that's well-known;
You've no other such a friend or brother,
Tell it to Jesus alone.
Source: Baptist Hymnal 2008 #425