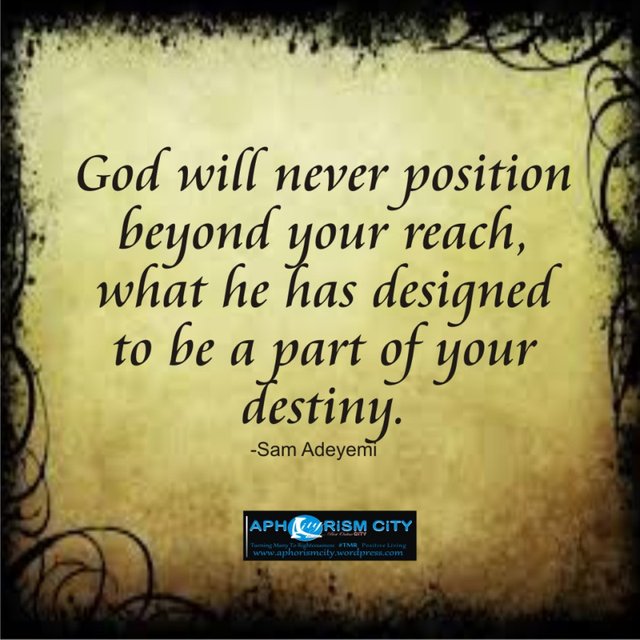 CREDIT: aphorismcity.files.wordpress.com
POSITIONED ON THE SPOT.
When the ten lepers who cried to Jesus for healing received a word from the Master to go show themselves to the Priest; they discovered on the way that they were healed. One of them who was a Samaritan returned to give Jesus thanks. By the time he came, Jesus was positioned within reach to receive the glory due Him. Jesus would have as well left that place, but He chose to remain there waiting for them to return to give Him thanks. Jesus knew they were going to be healed and His expectation of their returning to give thanks was strong.
It is not enough proclaiming that your expectation of the Lord shall not be cut off; but, what of God's expectation of you? God Who in His faithfulness positions men and resources in meeting our expectations of Him also wants us to be faithful in meeting His expectations of us. When David's camp in Ziklag was invaded and David and his men returned to meet the camp empty and ruined, with their wives and children taken as hostages; they cried until they had no more strength to cry.
David encouraged himself in the faithfulness of God and by the Word of the Lord, he went after the enemies who had come to invade their camp. It was God who positioned a young man on the way who stood as a link man that took David to where the people are.
The God who positions men and resources for our help also positions Himself to receive our praise. If you fail to return to give Him the praise due Him, you constitute yourself a disappointment to heaven. The Bible says – "Call upon Me in the day of trouble and I will answer thee and thou shall glorify Me". Psalm 50:15.
When you call and the Lord delivers you from trouble and you fail to tangibly return the glory to Him; you put yourself on a deficit. Jesus asked the Samaritan who returned to give Him thanks the whereabouts of the other nine. This means He actually expected them back. Scriptures affirm –
"Ye shall eat in plenty, and be satisfied, and praise the name of the Lord your God that hath dealt wondrously with you" Joel 2:2b.