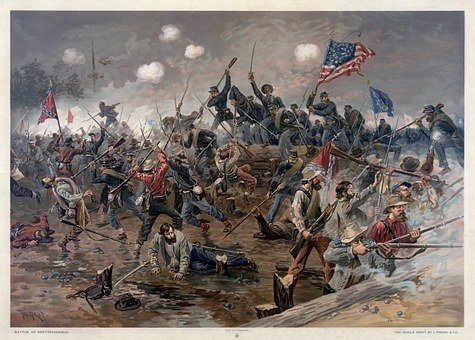 IMAGE SOURCE: pixabay.com
WHEN GOD APPEARS IN YOUR BATTLE FIELD.
When God appears in your battle field: that is the end of the battle. It doesn't matter the struggle, it doesn't matter how many times you have tried and failed. It doesn't matter still, the forces arrayed against you. What they hold against you notwithstanding, their expertise and history of conquests notwithstanding; when the tide steps in, the tide is made to blow against the enemies of your advancement and they are compelled to lose hold and give up on you.
When Jesus stepped into the scene of Peter's fishing espionage; that was already seen as a colossal failure, frustration gave way to a fulfilling breakthrough. Peter confessed that they had tried all night to get something to happen; but, it just didn't work. At the instance of the Master's Word, the story changed and their struggle came to an end. By heeding to the instruction of the Master, they were surrendering their fruitless struggle to Him and it set a new dawn in their lives. Your struggle will cease and your hardship will cease to prolong as you identify the voice of the Master concerning your situation.
Peter was not told to do something new; it was something he had done before. It doesn't matter how familiar the instruction is; if you will receive it as the Word of God for the now, your battle will come to an end.
When the ark of the Lord which symbolized the presence of the Lord was brought into Israel's battle field with the Philistines; the Israelites shouted for joy in anticipation to an end to their struggle for victory. Alas, not only were they defeated, the ark was captured. They believed in the ark, but they did not know the God of the ark. Friends! It is not just a matter of what you believe.
So much has to do with what you know for yourself of God; that has become an abiding reality in you. It is not a matter of chanting the "blood of Jesus", it is all about the cleansing the blood of Jesus has wrought in you.