Upvoted 👌 (Mana: 5/15)
Does the above look familiar? You'll see this bot comment after a thoughtful person curated your post with @tipu. Mastermind @cardboard came up with this idea and I have emulated this for a few of my personal accounts as well as for @thealliance (@alliedforces) and my own witness @untersatz (with @organduo).
@organduo made me laugh the other day when I complained about not getting 'real' comments on my posts. He said, "This is #newsteem, we are increasing bot engagement". Here's a little taste of what we are seeing in comments: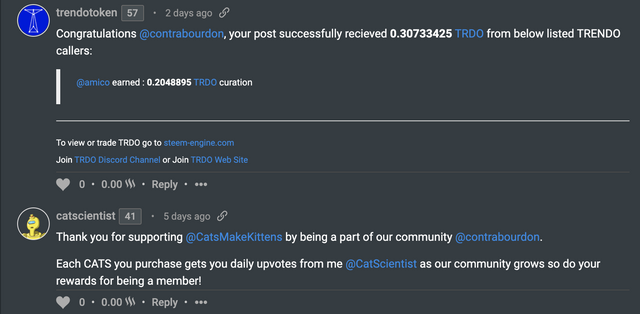 So, preferably, when you curate using command it would be nice to leave a thoughtful comment beforehand. I know we all want to nail that efficiency percentage though...
My bot offering is not as sophisticated as the tipu command, but it still does the job. It's particularly useful for communities that curate with a central account—you don't have to share posting keys and switch users to actually perform the curation. Here's the lowdown:
Currently, whitelisted users are manually hardcoded by me. Contact me on Discord (contrabourdon#9139) to have it updated.
The curating account will need to grant posting authority to my hauptwerk account. You can do this at https://keychain.steem.design (scroll to Add Account Authority > enter your account then 'hauptwerk' > Select posting > Send).
The bot will leave a curation comment to indicate success only. Please provide your desired text in markdown syntax. Footer text stating that the curation bot is powered by witness @untersatz will be added.
Voting power will be also be added to the comment so curators know if and when to back off (when VP gets too low). There is currently no facility to limit the number of curations—you should only whitelist trusted users.
Optional resteem to the curating account (15 min delay).
Here's what it looks like:

---
Drop me a comment here with any questions and your Discord username if you'd like to get in touch.
This community service is offered under the witness @untersatz. Your vote would be very much appreciated!

Vote here: https://steemitwallet.com/~witnesses
---
I'm co-owner of witness untersatz with organduo!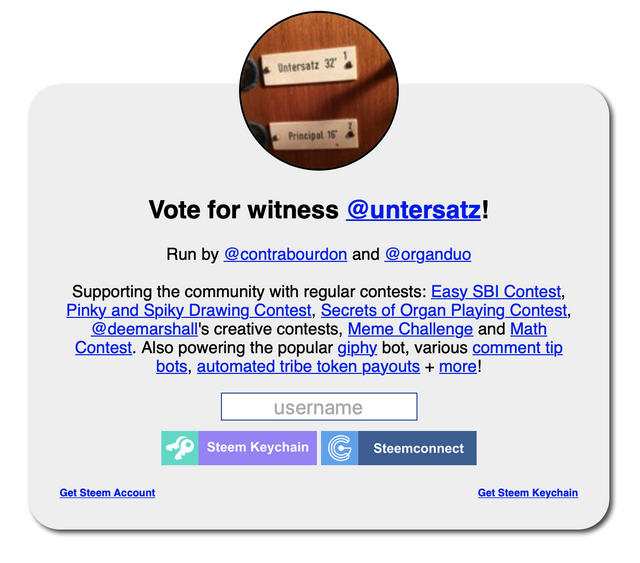 ---