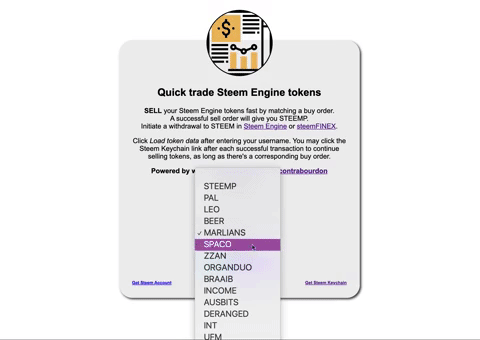 Almost a week ago, I posted about my Easily sell your Steem Engine tokens service. The website is available at https://quicktrade.steem.design. It's straight-forward way to sell Steem Engine tokens for STEEMP without making sense of the buy book. The service uses Steem Keychain for authentication and automatically sells your tokens at the current market price.
When I first launched it, you had to enter in the token symbol manually and click Fetch token balance. Whilst there was nothing functionally wrong with this, you had to guess what tokens had balances or open a separate Steem Engine window. So what I've done now is pre-fill all you tokens that have a balance as a drop down, after you have entered in your username and clicked Load token data.
So now you will be able to go through each token you have and sell the tokens fast (though this probably highly frowned upon with the respective tribes!). I'm only a newbie JS programmer so it's not the most elegant or 'best practice' way to achieve this, but I'm learning as I go along. We all have strengths and weaknesses in different areas so I hope you will understand 😄
As always, please comment with any feedback or questions you may have.
Yours truly,
@contrabourdon
Read more about me and my projects at https://contrabourdon.steem.design.
---