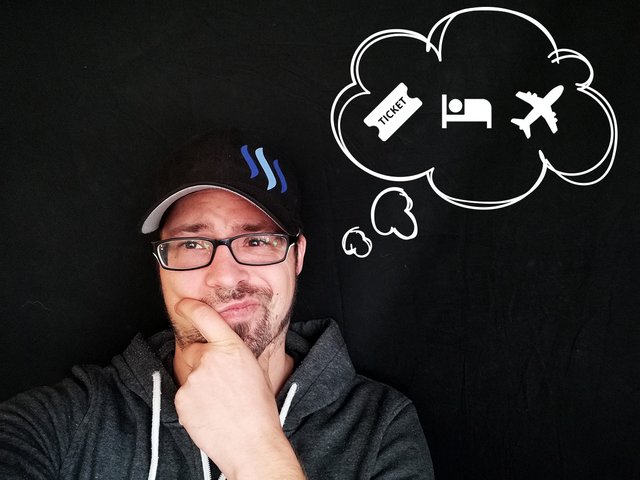 Now the time has come. I recently booked my flights. That means: I will participate in SteemFest4. But I didn't make this decision easy for myself. From many respects I have hardened with the decision a little. For example for the following reasons: The SteemFest4 takes place in a very far away place. The SteemFest ticket is very expensive because of the low price of Steem. The costs for flight, ticket and hotel and of course the local lifestyle would cost about 1,5k Euro according to my first estimates. If I travel to such a far away country, I would like to get to know more about the surroundings and the country. Therefore it is completely senseless to fly to Bangkok just for the SteemFest. So I have to plan more time for it than just the few days for the SteemFest.
These are all thoughts that go through my head when I think about the travel planning for the SteemFest4 ... or thought.
Because... Yep. I did it now. I have
The SteemFest Ticket
Hotel accommodation in Bangkok
The flights
were booked. Or have them booked by someone else. More about this in the upcoming Post's.
I made this decision relatively spontaneously. On the one hand I would like to go on a longer journey, to get to know one or two foreign countries. I haven't had a relaxing holiday in a while and I see Bangkok and its islands as a place to relax. The possibility to get a cheap SteemFest4 ticket and the hotel accommodation made the last decision easy for me to fly and participate in the event.

Jetzt ist es tatsächlich soweit. Ich habe vor kurzem meine Flüge gebucht. Das heißt: Ich werde am SteemFest4 teilnehmen. Diese Entscheidung habe ich mir aber nicht Leicht gemacht. Aus vielerlei Hinsicht habe ich mit der Entscheidung ein wenig gehardert. Zum Beispiel aus den folgenden Gründen: Das SteemFest4 findet an einem sehr weit entfernten Ort statt. Das SteemFest Ticket ist aufgrund des niedrigen Kurses in Steem sehr teuer. Die Kosten für Flug, Ticket und Hotel und natürlich der Lifestyle vor Ort würden schon nach meinen ersten Schätzungen rund 1,5k Euro kosten. Wenn ich in ein so weit entferntes Land reise, möchte ich natürlich auch noch mehr von der Umgebung und dem Land kennenlernen. Daher ist es total Sinnfrei nur für das SteemFest nach Bangkok zu fliegen. Also muss mehr Zeit dafür eingeplant werden, als nur die paar Tage für das SteemFest.
Dies sind alles Gedanken, die mir durch den Kopf gehen, wenn ich an die Reiseplanung für das SteemFest4 denke... bzw. gedacht habe.
Denn... Japp. Ich hab es nun getan. Ich habe
Das SteemFest Ticket
Die Hotelunterkunft in Bangkok
Die Flugreisen
gebucht. Bzw. auch buchen lassen. Dazu in den kommenden Post's mehr.
Diese Entscheidung habe ich dann doch relativ spontan getroffen. Einerseits möchte ich gerne eine etwas längere Reise unternehmen, ein bzw. zwei fremde Länder kennenlernen. Ich habe schon länger keinen erholsamen Urlaub gemacht und ich sehe Bangkok und deren Inseln auch als Erholung an. Die Möglichkeit günstig an ein SteemFest4 Ticket und der Hotelunterkunft zu kommen hat mir dann aber tatsächlich die letzte Entscheidung leicht gemacht doch zu fliegen und am Event teilzunehmen.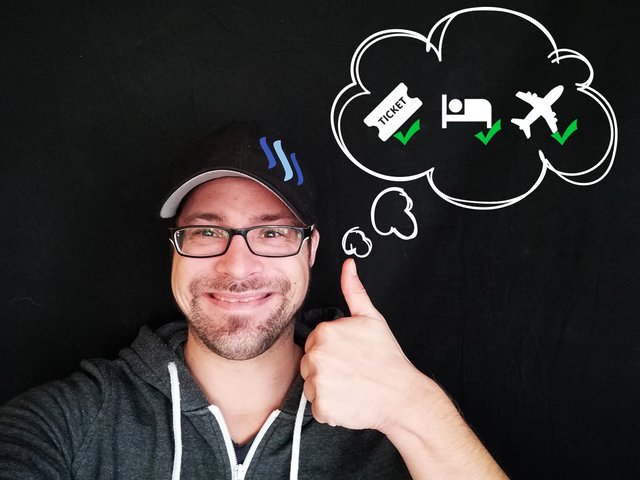 Well - It's official. The louis is flying to Bangkok for the SteemFest4!
What about you? Are there any others from last year who visited the SteemFest3 in Krakow and are taking Bangkok with them this year? Other Steemians - e.g. also from Germany who don't want to miss the event?
Also - Es ist amtlich. Der louis fliegt nach Bangkok zum SteemFest4!
Wie sieht's mit dir aus? Gibt es auch noch andere aus dem letzten Jahr, die das SteemFest3 in Krakow besucht haben und dieses Jahr auch noch Bangkok mitnehmen? Andere Steemians - z.B. auch aus Deutschland die sich das Event nicht entgehen lassen?
---
This and the next articles on my trip to Malaysia / Bangkok will help me to cover the cost of my trip.
Dieser und die nächsten Beiträge zum Thema meiner Reise nach Malaysia / Bangkok helfen mir, die Kosten für die Reise zu decken.
---

Splinterlands.io Trading Card Game
Nextcolony.io Space-Browsergame

Deutschsprachige Steemians im Discord

@cleanplanet Project Eco-Citizen on Steem