Are you all getting tired of seeing the same old stuff again and again?
Yes, I know the feeling and so I will present you with even more content, though to be fair it's my own and has never been published until now.
....the closing dinner was just as posh as usual, no expense spared'...
This is not a day by day event recount, it's merely bits and pieces of memories and photographs in no order at all. I take way too many and feel you can never have quite enough.
Everyone is looking the other way because there's some questionable karaoke going on in the stage area.
I was tempted to stick my fingers in the ears during some parts of 'Bohemian Rhapsody'.
For most of the farewell boat trip the music was from the seventies, a strange choice I thought considering many people attending were not born then.
...'@faitherz33 looks to be fuming at me for taking this one, er.. sorry...'...
The long tables during the final dinner always remind me of the halls of Hogwarts (Harry Potter), except the food does not magically arrive. Last year's underground even more so.
Crossing busy roads in Bangkok. Some don't have crossing zones and during the rush hour, you are risking your bloody neck trying to get to the other side.
What this is I can't tell you, I tend to look in back alleys for somewhat unusual things.
I read somewhere that you need to be careful that any splashes of water don't land on you. I was extra careful during boat rides and suffered no ill effects.
Call me paranoid but if you happen to swallow this stuff it's not going be a pleasant outcome.
During visits to 7/11's, I saw these small bottles often and wondered what the taste was like. They look similar to Yakult which is incredibly expensive in the UK.
I tried the orange one for 10 BAHT (33c or 26p). It was sweet, not like Yakult or milky in taste but pleasant and refreshing. I'm still no wiser as to what it is.
If you're a cheapskate you can read the local newspaper for free. Just stop walking and start your reading.
McDonald's are here but some of the menu items differ from what I'm used to. 'Cheesy Egg Lava Rice?', I didn't give it a go.
After several days, I figured the taxi's I could trust the most were the yellow and green ones. They still need to be instructed where to go by their passengers.
The Siam Centre is as western as I have ever seen, but there is a price to pay.
This fancy thing cost 174 BAHT ($5.75 US) and though it does look great, it failed a little on the taste test. I thought our prices were bad.
Khaosan Road seemed a little normal. I ended up in this area with @for91days, @jpphotography, and @wanderein after our failed Urbex expedition (forthcoming).
After a walk down the road, there would be many more @travelfeed stickers in the hostels, eateries and tattoo shops. I'm reading now the place comes alive after dark...., oh well.
I don't know what to say about this dude, he's not exactly eye candy but I just had too.
These photographs are unfiltered, I should add some and see if they come up a little better.
It goes dark in Bangkok quickly and walking can reveal a lot more than continually using taxies and tuk-tuks.
If the king ever dies someone is going to have a lovely time replacing all the homages to him, they are literally everywhere.
@goblinknackers tell me this is sugar cane, I didn't give it a try though now feel I should have been more adventurous.
And lastly, a few more pictures of the outdoor meal after day 2. @roelandp looks serious while @detlev looks really bored.
How the hell I found this place still stumps me. I arrived during the middle of the gorging session and found it using map-reading and luck.
I left early with @bubke but bumped into @anthonyadavisii walking down this very dodgy alley in a brand new three-piece suit.
After we both agreed he was somewhat overdressed for the occasion (it was 32C and very sticky) I was quite speechless and simply said, 'that way'.
He continued muttering to himself something about flags, plagiarism, spam and bid bots.
..and here he is again, this time with fewer clothes attached to his body.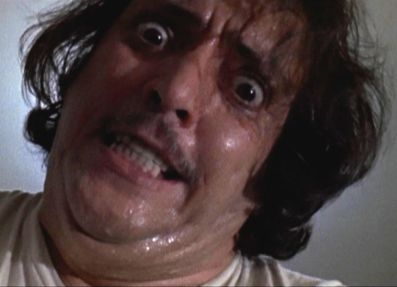 If you found this article so invigorating that you are now a positively googly-eyed, drooling lunatic with dripping saliva or even if you liked it just a bit, then please upvote, comment, resteem, engage me or all of these things.