SteemFest4 was great. @roelandp did an incredible job of organizing and managing. Volunteers @firepower, @sjennon, @aishwarya, @varunpinto, and @wandereronwheels kept things running smoothly.
But with SteemFest in the rear view mirror and the two extra days in Bangkok I'd added to my trip having now passed, it's time to get the hell out of Dodge. Tomorrow morning, I'm flying from Bangkok to Shanghai, doing a four-hour layover there, then catching a flight to Los Angeles, and from there a third flight to Minneapolis.
When flying I like to have my boarding pass(es) ready to go well in advance. Old-school hard copy printouts. Maybe all the cool kids are loading them onto their phones, but I've more than once seen people trying to board and having problems with their phones including things like a cracked screen making the pass difficult to scan. So when I got the 24-hours-to-flight-time email saying it was time to check in, I went to use the hotel computer/printer.
No go. Even though the email from Delta said I could check in, the first leg of my flight is on Delta's partner Shanghai Airlines which doesn't let me check in, let alone print boarding passes. So I'll need to leave for the airport earlier than planned so I can experience the joys of waiting in line at the Shanghai Airlines counter before being able to stand in line for the Thai security checkpoint.
Which means I have to leave my hotel before they start serving breakfast. My room has a mini-fridge but no microwave. I've yet to see a large grocery store here. Maybe they don't exist. There's a case to be made for food shopping at a variety of specialty stores (butcher, greengrocer, etc.)
But there are convenience stores. So I went to get something to eat before heading to the airport to wait in lines. I'd been to the local convenience store a bunch of time while here but always just for bottled water, hadn't paid any attention to what they had in the way of food.
It turned out that my options were rather limited. At any convenience store in America there's a wide variety of bland sandwiches to choose from, subs, ham and cheese, those "chuckwagon" sandwiches (where did that name come from?). Nothing remotely like that in a Thai convenience store. The closest they had were those ghastly hamburgers in plastic packaging. At best, incapable of administering a quick death after being microwaved, but unthinkable cold.
So I ended up getting some odds and ends sure to spike my blood sugar: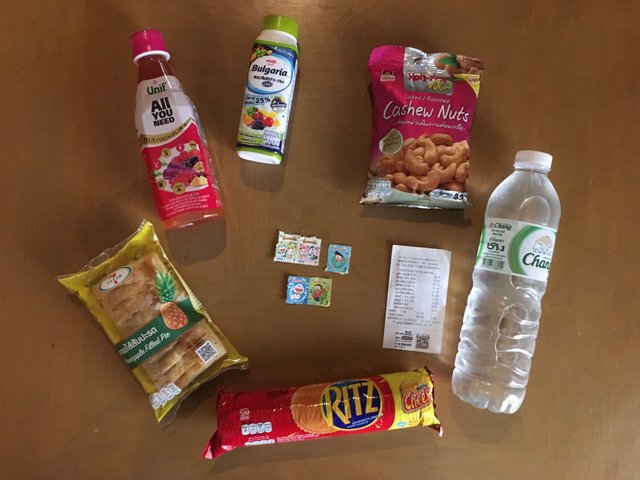 I guess the cashews could be considered to be healthy but that's about it. The Ritz crackers have "Keju Cheese" but keju is a Malay word derived from the Portuguese queijo which means cheese so, unless I'm missing something, the crackers are made with cheese cheese.
If little packaged apple pies have not yet killed me, a little packaged pineapple pie probably won't get the job done.
I suppose I could have just gotten one bottle of All You Need since by definition it would have been all I needed. But I added a bottle of Bulgaria just in case. Perhaps Bosnia-Herzegovina was too long to fit on the label: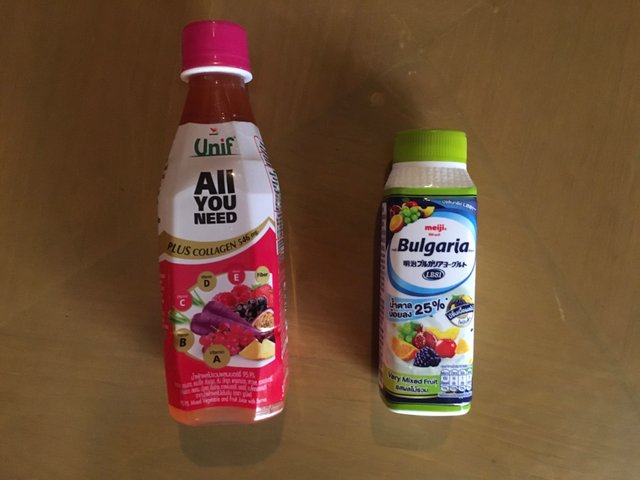 The cashier put a few little stamps in the bag, the throwback kind that have lickable glue on the back. Like the S&H Green Stamps that my mom licked and put into little booklets, later trading them in for spoons and plates? Or just Collect them all, trade with your friends?