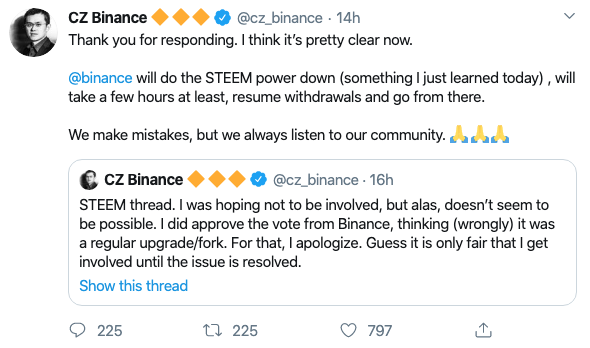 https://twitter.com/cz_binance/status/1236396874690695173?s=20
Binance apologized for their mistakes (witness voting), and will power down for liquidity.
But HF for shortening powerdown may be delayed? since they don't need it anymore? :) Just stop withdrawal temporarily and 13-week weekly powerdown is already enough for them.
---
바이낸스 트위터에 투표권 행사에 대한 사과가 올라왔네요.
사실 누가 맞고 틀리냐를 떠나서 잘못된 부분은 반드시 사과가 필요한 법이죠.
스팀은 워낙 작고 그래서 그렇지 더 큰 코인에서 이런 일이 일어났으면 아마 소송이 벌어졌을지도 모릅니다.
전 가장 이해가 안됐던게 그냥 파워다운 바로 시작했으면 1주일치만 받아도 유동성에 사실 문제가 안생길테고 그렇게 쭉 일단 파워다운부터 하지. 할 수 있는 것은 하지도 않으면서 다음 하드포크로 파워다운 줄이겠다고 하고 있으니 이게 일이 진행될리가.
그래서 혹시 파워다운을 할줄 모르나했는데. 정말 몰랐다는군요ㅠㅠ 어쩌면 13주 파워다운을 13주이후에 한번에 나오는 것으로 생각했거나. 아무튼 파워다운해서 유동성문제를 해결하겠다는데 아직도 방법을 모르는지 시작은 안했는데ㅎㅎ 조만간 하겠죠.
이 상황으로 미루어볼때 파워다운 기간 축소 하드포크가 다시 미루어지는 것은 아닐까도 싶네요.
아무튼 거래소와는 약간은 화해분위기가 형성되고 있겠습니다.
ps. 파워다운 시작하지 않은 걸 보고 안그래도 어그로드가 파워다운 하는 법 알려주는 트윗도 올렸더군요ㅎㅎ